Posted on
VOX POX – Word from the teachers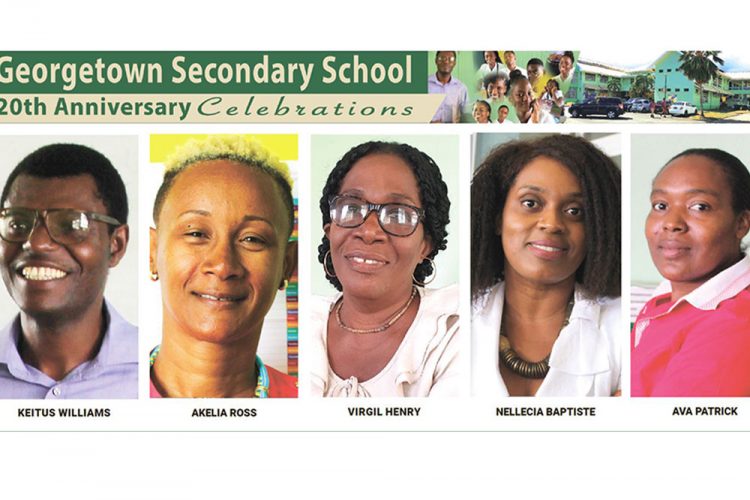 KEITUS WILLIAMS
Being a teacher at a school that schooled you is a great feeling for GSS teacher Keitus Williams.
Williams has taught history, social studies and economics there for over 10 years.
"It is a real proud feeling knowing that I am one of the first students who came over to the school and looking back we have achieved quite a bit over the years," Williams commented on Tuesday.
He added, "I am very proud to be associated with this school as I started at Bishop's College Georgetown and then came over."
Williams thinks the GSS has very good teachers who are passionate and who love teaching.
"The students are willing to learn and although we have our challenges, we do well. We are very big on sports and over the years we have done well.
"In between we have had students who have excelled at the CSEC level. You cannot judge a book by its cover. If you were to come here and really have the experience you are going to have a different perspective," Williams advises persons who may think negatively about the GSS.
"The GSS is a good school and sometimes people think that the GSS is not a good school because of where we are located but, we have proven ourselves," stressed Williams.
AKELIA ROSS
Akelia Ross has been a staff member of the GSS for the last 20 years.
She started out as a teacher and transitioned into administration before once again returning to the classroom. "To put into words how I feel on the school's 20th anniversary is a problem for me. I feel good but I just can't put the feelings into words," Ross said. She noted that the GSS is a spill off from Bishop's College Georgetown (BCG) and her mother and principal Clarke are past students, so she is proud of that.
"It gives me a kind of drive…" said Ross.
VIRGIL HENRY
The Deputy Principal of the GSS is Virgil Henry.
She has been at the school for nearly six years. "I am happy to be associated with the school at this time.
We are on track to achieve certain things and it is a good feeling."
NELLECIA BAPTISTE
Teaching English Literature and English Language at the GSS for the last 12 years has been a blessing for Nellecia Baptiste. "I am very proud of this school. It is like a baby to me, dear to my heart," Baptiste told SEARCHLIGHT on Tuesday.
She said that the culture at the GSS is different to other schools and that allows them to stand out.
"We have well qualified teachers. Most teachers have their first degree. We do well in sports and that is one of our highlights.
We have passionate teachers, the teachers love what they do, and we are not only about the money, we are here for the love of teaching and having students succeed," Baptiste said.
She noted that the GSS has its challenges, but they are doing well and standing strong for the 20th anniversary.
AVA PATRICK
At the GSS for the last 20 years, Ava Patrick thinks that the school's 20th anniversary is a great achievement. The Mathematics teacher commented on Tuesday, "I think it is a special occasion and I am happy to be here all of my teaching career."
She added, "I love teaching and dealing with young people and a lot of the students are from my own community in Langley Park."
Patrick added that the GSS stands out because there is co-operation between staff and administration and the students give you moments to be happy about.
"One of my best memories is the glory of sports and I love sports and that is one of the things I really enjoy, seeing the energy of the students and their total participation," said the Chester Cottage resident.