Posted on
Georgetown Secondary School celebrates 20 years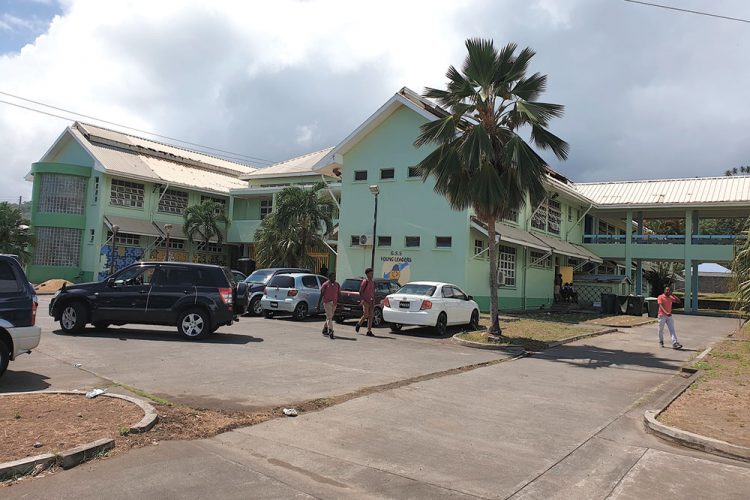 Next Tuesday, February 19, the Georgetown Secondary School (GSS), under the watchful eyes of principal Ronald Clarke, will celebrate its 20th anniversary.
The GSS officially opened its doors on February 19, 1999 although students were being taught at the institution at another location since September 1998. The first principal was Hilton Browne.
The school was opened as a replacement for the Bishop's College Georgetown (BCG) after the government took over that institution from the Anglican Church.
When the government took over, the GSS building was still under construction, so students were housed at a primary school and community centre in Georgetown.
Clarke, who has been at the GSS since January 2013, told SEARCHLIGHT on Tuesday that he is proud to be at the head of the institution. He noted that he is a past student of the BCG and was a teacher at the Sandy Bay Primary School when the GSS opened.
The GSS has an enrolment of 442 students, and Clarke said over the years, the school has not changed much, but in 2005, more classrooms were added to accommodate the additional students who came their way as a result of the universal access to secondary education initiative.
"We went up to around 800 students when senior one and senior two students joined, but over the years, the population has dwindled.
"When I came, it was 553 students in January 2013, now we are down to 442 and in 2018, we went to 436 but now we have tapered off. We have 42 persons working here, including office staff and a librarian and two teachers who are on study leave in Jamaica at the St Vincent Teacher's College," Clarke informed.
The principal also noted that students are afforded a well-rounded education at the school despite what persons may say.
He noted that in 2013, the GSS did not offer Chemistry and Biology and when he enquired why that was so, he found out that they once did, but because of the low pass rate, the subjects were struck off the curriculum.
"People had the mindset that we were a rural school and our community was not well off, but the fact remains that we have students who still aspired to be doctors, nurses, pharmacists and so forth.
"So, I thought it was unfair that students who are socio economically challenged … were being deprived of their dreams, so I took a conscious effort to reintroduce the sciences and that was easy, because I had the capable staff to teach," Clarke explained.
"I understand the power of education, because I come from a poor background. One of the things about the Georgetown Secondary School is that it is underrated when in fact we are one of the most complete secondary schools in the country," said Clarke.
He said that while some persons may ask, "What you mean most complete?", that can simply be answered when one looks at the myriad of subjects areas and extracurricular activities offered.
"We do art, we do the sciences except Physics; we do French and Spanish; English Literature, English Language. We have agriculture and physical education programs, home economics, technical drawing, economics and hospitality. We do accounts, principles of business, economics, office administration, IT, so we are well diverse.
"When it comes to extracurricular activities, by now I don't think it is any secret when it comes to sports that the school's name is out front," stressed Clarke.
He added that the school is at the top of its game in football (defending champions), cricket, volley ball (defending champions), netball (junior defending champions) and they have tried in table tennis.
He said the school has also taken part in the Eastern Caribbean Group of Companies (ECGC) cook off competition, the Young Leaders competition and the schools' public speaking competition and have held their own in these areas.
"One of things is that when we participate in these events, we do not participate for the sake of winning we see it as an opportunity to expose our students to a whole new life.
The school is marking its 20th anniversary celebrations with "20 days to 20" in-house activities.
On February 19, a church service will be held at the Holy Trinity Anglican Church in Georgetown, while on February 18, there will be a walk to school day in which students will assemble at the old BCG and do a ceremonial walk to depict the school's journey.
On February 12, there was a picture day when photos were taken of students.
Clarke also revealed that memorabilia of the school will be buried in a time capsule which they will ask persons to open 20 years from now and make a comparison of how the school has changed.
An in-house design competition which asks students to design a futuristic uniform has also been launched.