Posted on
How does it feel to be a student of the BCK?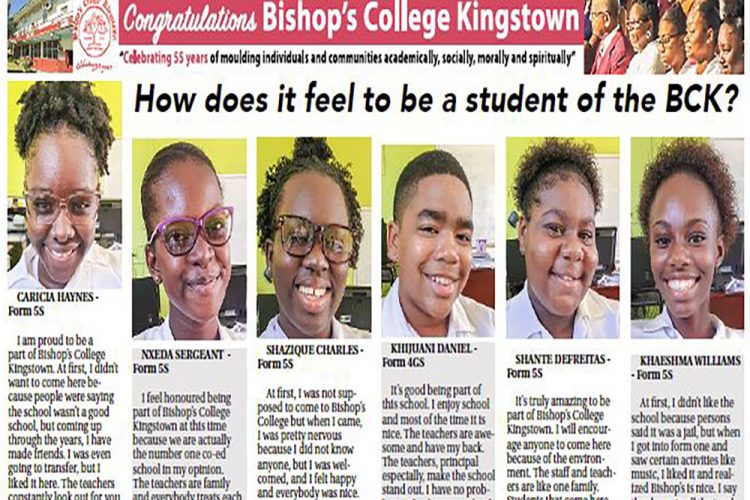 Caricia Haynes – Form 5S
I am proud to be a part of Bishop's College Kingstown. At first, I didn't want to come here because people were saying the school wasn't a good school, but coming up through the years, I have made friends. I was even going to transfer, but I liked it here. The teachers constantly look out for you and the teaching is good, so I am proud. The school stands out because we do things differently from the others. The uniform is different and unique and when it comes to learning, we wouldn't always be in school, they would take us outside because learning is not only in school but outside as well. House feed is at Mt Wynne or Black Point or some other historic site. I would like to thank everyone because secondary school is a big part in your life, and it was a good experience.
Nxeda Sergeant – Form 5S
I feel honoured being part of Bishop's College Kingstown at this time because we are actually the number one co-ed school in my opinion. The teachers are family and everybody treats each other like one family. We stick together. We fight for each other and we have a lot of activities and our principal encourages us every single day to do better and the teachers are like that too, and we take pride in ourselves and we have decorum. Our school has been around for a long time and there are past students who ended up in big jobs and contribute to the school.
Shazique Charles – Form 5S
At first, I was not supposed to come to Bishop's College but when I came, I was pretty nervous because I did not know anyone, but I was welcomed, and I felt happy and everybody was nice. The teachers here are very helpful and if you ask them, they won't shun you and tell you they are too busy. Bishop is a church school, but we are not all about study and books, we have fun and activities that you can do. The school made it to 55 years because the persistence of people who worked hard to build up the school and the Anglicans built up the school so that children can have different experiences.
Khijuani Daniel – Form 4GS
It's good being part of this school. I enjoy school and most of the time it is nice. The teachers are awesome and have my back. The teachers, principal especially, make the school stand out. I have no problem with where my school is located, and I would encourage other people to come here because the teachers are encouraging and nice and they help push work.
Shante DeFreitas – Form 5S
It's truly amazing to be part of Bishop's College Kingstown. I will encourage anyone to come here because of the environment. The staff and teachers are like one family. Students that come here are not at a disadvantage because when you come here the teachers know instantly your ability to do certain things and they push you towards where you have to go. We have a counsellor if you need help and the teachers are trustworthy.
Khaeshma Williams – Form 5S
At first, I didn't like the school because persons said it was a jail, but when I got into form one and saw certain activities like music, I liked it and realized Bishop's is nice. I say thank you to all the teachers as they help me out a lot. This is my last year and I might cry because it was a very good time. We are known for running, music, drama and our famous agricultural program.
Eldonte Samuel – Form 4S student
To be honest it feels good being part of the 55th anniversary because when I came in form one, I had a vibe not to come, but God knows what he is doing, and it has been a good experience. We are different here in many ways. We have a number of extracurricular activities like drama, book club etc. I would like to encourage persons to come to Bishop's because at this school there is an opportunity for everyone, and the teachers and staff members treat you like family and make sure every child is well looked after.