Posted on
Proud feeling being named Best Farine in Best of SVG awards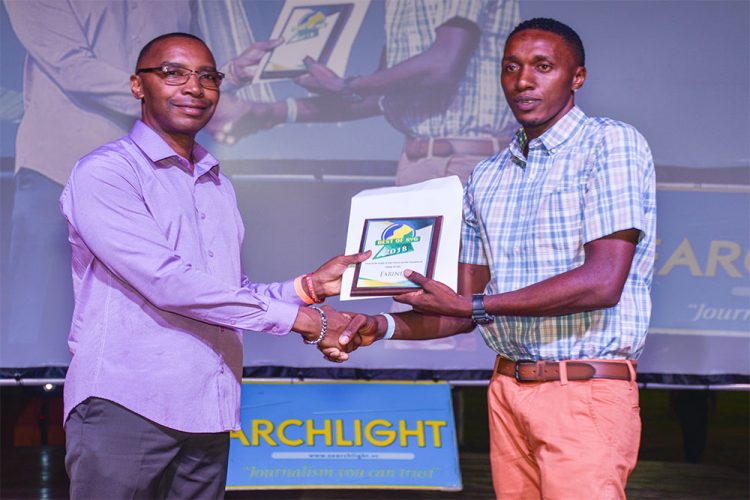 Farine making is a tedious time-consuming process, but Maxwell Sayers has mastered the art.
So much so, that Sayers, the owner of Role Model Fruits, copped the Best Farine award in the 2018 Best of SVG competition.
"I feel proud, I mean it was expected of me. The people have made my farine the best in St Vincent and the Grenadines and beyond," Sayers told SEARCHLIGHT during a recent interview.
The Victoria Village resident said that he has been making farine almost all his life and winning the award has helped boost his sales.
"People tell me things like 'keep up the good work' and I am winning again next year, no if nor buts," Sayers commented.
He stressed that making good farine is a long process with many different stages and steps, from harvesting the cassava to the final point of baking.
"There is grinding, wringing, sifting and baking which is the most tedious part in the copper," Sayers outlined while adding that he is also thankful to his workers for helping him make his product top quality.
Sayers sells his farine and fruits under the COURTS SVG gallery on Bay Street and can be found in that spot 24 hours a day as his business never closes.
The public may purchase his farine in half pound and one pound portions EC$10 (per pound) for normal farine and EC$12 (per pound) for the sweetened version.
"Farine is an ancient indigenous food, good for roughage and high in fibre and it is better than bread," Sayers stated while encouraging persons to sample his product.
He said he is one of very few businesses that remain open 24 hours a day and his unique set-up allows persons to satisfy their craving for his farine and other products.
He employs six persons who work day and night shifts, something he has been doing since 2012 when he and a friend decided to do a 24-hour shift to cater to the Independence activities crowd.
"Role Model Farine is the best, the freshest farine, is every week we bake farine, so it is always fresh and affordable…it is recommended all over the globe," boasted Sayers.