Posted on
Cims and Searchlight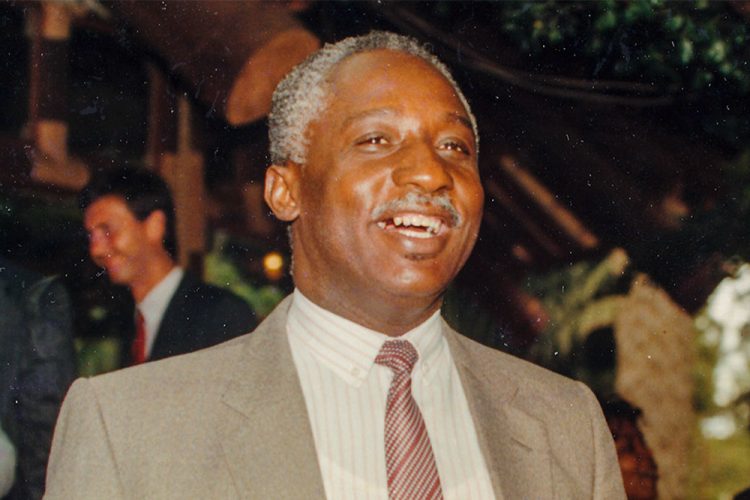 Christian Ivor 'Cims' Martin CMG first became associated with Searchlight in 1996 during a visit to St Vincent and the Grenadines after an extended stay overseas. He bought shares in Interactive Media Limited (publishers of Searchlight) in 1997 and often commented that he decided to get involved with the struggling two-year old newspaper because it was a good example of what black people could do when they work together.
He became a director of the company in 2001 and it was he who insisted that the company adopt the discipline of preparing monthly management accounts and holding monthly meetings of the Board of Directors for more effective management of the business. For over 12 years, as a member of the Board, Cims led discussions on the company's finances, helped shape company policy and provided valuable advice to management. His closed eyes would often trick others into thinking that he was having a snooze until in his booming voice, he would declare,"Yes, yes, I would support that decision."
When in 2004, the company decided that it wished to move forward with the establishment of a printing press here in St Vincent, Cims encouraged his associates and friends to invest with us to help make the venture possible. It was he who came up with the name 'SVG Publishers Incorporated' for the company which since 2008 has been printing all three national newspapers from its base at Campden Park.
Cims always had SEARCHLIGHT at heart. As recently as April this year when the company engaged in the restructuring of its operations, Cims demonstrated his commitment and confidence in the company's future in a very tangible way.
A talented essayist, Cims wrote occasional articles in SEARCHLIGHT under short and catchy titles such as: 'Going Forward', 'Leadership', Stupidity and Recession', 'Coping with our problems', 'Referendum', 'Mr Boyea', 'Working out our own Salvation' and 'The Economics of a Small Island'. In his articles, which were always educational, clear and concise, he shared the wisdom of his years of work, study and experience. He read widely, and whenever he came across articles on the newspaper business which he thought would be useful to SEARCHLIGHT, he readily shared them with us.
The Chair, Board of Directors, Management and Staff extend deep and sincere condolences to Mrs. Martin, Alistaire, Jerome, other relatives and friends. He would be greatly missed.