Posted on
Multiple Isolation Centres being prepared — for mainland St Vincent, as well as the Grenadines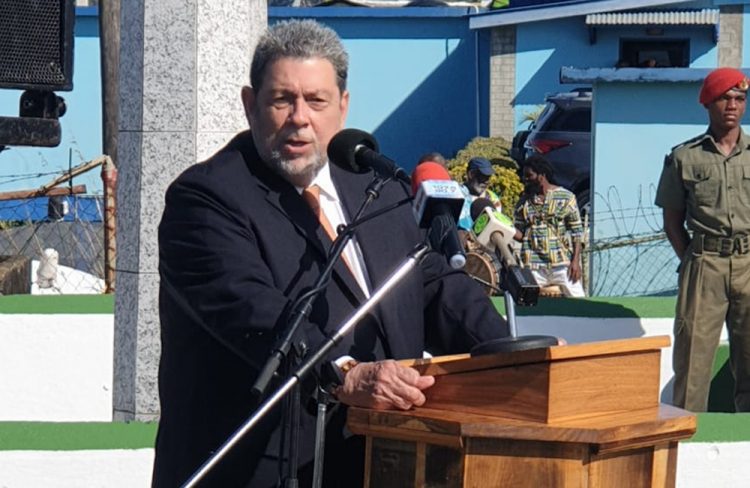 More than three million dollars is being spent by the Government in its fight against the coronavirus, including for isolation facilities that are being prepared on mainland St Vincent as well as in the Grenadines.
Prime Minister Dr Ralph Gonsalves made these announcements today, March 14 during his National Hero's Day address at the wreath laying ceremony for this country's national hero, Paramount Chief Joseph Chatoyer.
According to Gonsalves, at least $1.3 million will be spent to retrofit and construct an isolation centre in the Mt Pleasant/Argyle area of St Vincent.
And this is exclusive of funds that will be spent to purchase the property.
"The centre is being retrofitted to accommodate a maximum of 24 patients — 14 upstairs and 10 downstairs and support facilities. I hope we don't have to put anybody there, but we are being prepared," the prime minister said.
A second building on the property is also being repaired and retrofitted to accommodate nursing and medical personnel.
The prime minister added that a third building will also be constructed for additional housing for staff, as well as for eating facilities.
He said rooms will be provided to house at least 12 nursing and medical personnel on site at any one time.
And three separate contractors have been selected to work on these three components of the Argyle isolation facility.
"We expect that by mid-April 2020, all these facilities will be ready for occupation," Gonsalves said.
"Meanwhile, other existing health facilities may be used in any emergency. Further, we have in-home quarantine that's being done for particular categories of persons infected with the COVID 19 virus."
The prime minister added that the facility is being built not just for COVID-19 isolation, but possible outbreaks of other viruses in the future.
He said isolation centres for the Grenadine islands are also being prepared.
And he disclosed that the government has also secured through Dermott Desmond, the investor in the south of Canouan, assistance with the retrofitting and equipping of up to five containers, for use as additional isolation centres for certain Grenadine islands – Union Island, Canouan and Bequia — and two for rural areas on St Vincent. And for the residents of Mustique, the Government has had discussions with the Chief Executive Officer of the Mustique Company Limited about steps to be taken on that island.
"I want to assure you that the Government and your Prime Minister, have been working assiduously on this matter, to keep us safe," he said.
In addition to the $1.3 million that will be spent for the Argyle isolation facility, over $2 million has been spent on equipment, supplies and materials to combat COVID-19.
And Gonsalves said these items will be delivered in short order.
Included in these items are equipment and supplies that will allow for the testing of COVID-19.
The prime minister noted that testing of samples from St Vincent and the Grenadines is currently being done at the Caribbean Public Health Agency (CARPHA) labs in Trinidad.
But he has spoken to Prime Minister of Barbados, Mia Mottley to facilitate the testing of some samples there.  "One of the reasons we have had to do this is because CARPHA has been overwhelmed by a number of countries who do not yet have testing and they have said to us, try not to send more than 20 per month, but if we have more than 20 per month, we can send to Barbados. In any case, a flight to Trinidad is an hour, a flight to Barbados with the sample is just 30 minutes," he said.