Posted on
Union reps skip meeting with PM when told to surrender cell phones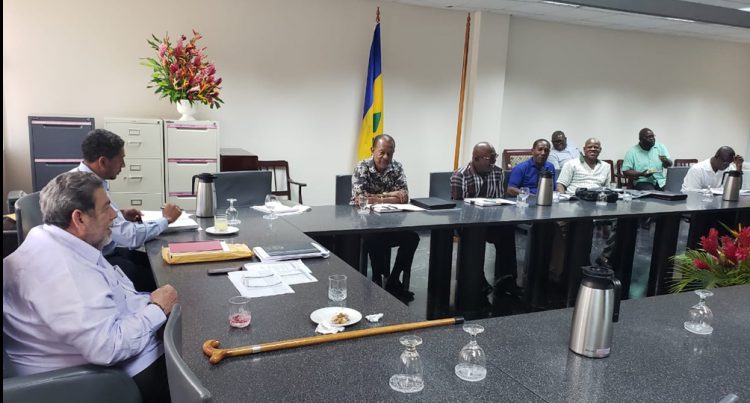 Representatives of local public sector unions chose not to attend a meeting today at the Prime Minister's Office when they were told that they had to surrender their cellular phones or leave them outside.
The unions were expected to discuss issues of salary increase, pension reform and the upcoming Budget with government officials including Prime Minister Dr Ralph Gonsalves, finance minister Camillo Gonsalves and labour minister Saboto Caesar.
"The unions went. While at the waiting area, when checking with security, we were told that we could not proceed with our phones within the meeting and we decided that if our phones were not going into the meeting, then we're not going to the meeting," Station Sergeant Brenton Smith, the chairman Police Welfare Association (PWA) told SEARCHLIGHT this afternoon.
Smith said that this decision was made by presidents and representatives of his association, the Public Service Union (PSU) and the St Vincent and the Grenadines Teachers' Union (SVGTU).
The PWA chairman said that a security officer was asked to clear their decision with the Prime Minister whom he said indicated that if representatives could not leave their phones with security then there would be no meeting at all.
"So we took the option of no meeting at all," he said. "I don't see the reason why we can't take our phones within the meeting. There is a sign at the waiting area that says all phones should be taken off or put on silent or something like that, but it never said to be left at the security."
Smith added that at the last meeting held with the Prime Minister and the Minister of Finance, "our phones were allowed in the meeting, so I don't understand".
A photograph was posted on the Facebook page for the SVGTU earlier this afternoon with the caption; "Entrance denied!!!"
But Prime Minister Dr Ralph Gonsalves, in a telephone interview with SEARCHLIGHT, said that no one denied the representatives entry, but rather they were asked to satisfy the security requirement of leaving their phones.
"I was inside of my office and my security officers came and said to me, … they are not coming in, they're not gonna pass the security check point if they have to give up their cell phone and electronic devices," he said.
Gonsalves said that at the last meeting with the unions, union representatives gave up their phones, except for one person. An audio recording from that meeting was subsequently leaked to a local online publication.
In January 2018, the prime minister openly objected to the secret recording made during that closed-door meeting with the unions.
While speaking at a press conference, he said then that one cannot have an open discussion if persons are going to surreptitiously tape the discussion and he said that it was the first time in his 17 years of consultation that it had ever happened.
And he insisted on Friday that what is practiced at the Prime Minister's Office is a standard and universal security measure.
"If I am going to see the American Ambassador in Barbados, I have to leave my phone outside. If you're going to the embassy in Barbados, you have to leave your phone outside. It's a standard security practice all over the world. I'll tell you this. Anywhere I go to have an official meeting, other than when I go to visit a Caribbean colleague, a request is that I leave my phone outside. They check to see if I have my cell phone — not if I have it on — if I have my cell phone," the Prime Minister told Searchlight.
The meeting went on as scheduled with Noel Jackson, representative from the National Workers Movement; Joseph Burns Bonadie of the Commercial Technical and Allied Workers Union and other representatives from those unions, who also represent some public sector employees.
SEARCHLIGHT attempted to contact Wendy Bynoe, president of the SVGTU and Elroy Boucher, president of the PSU but our calls were not answered.
Station Sergeant Smith told SEARCHLIGHT that he intends to report to the membership of his association, who will guide him accordingly on further steps that the association wishes to take.