Posted on
SVG to provide flood relief to Trinidad and Tobago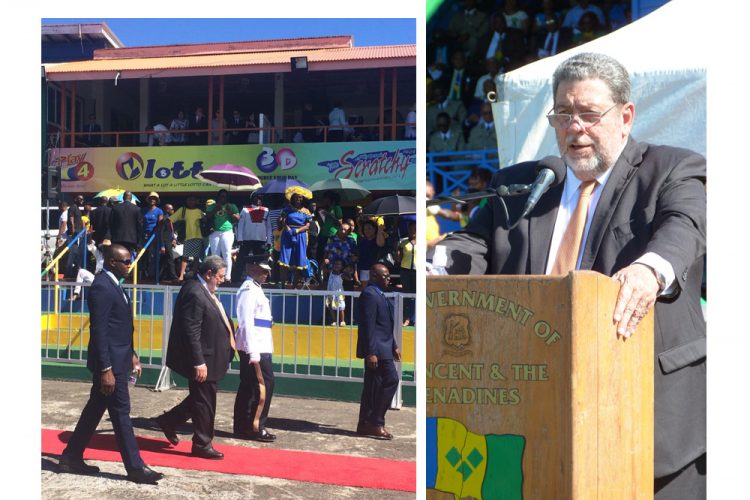 St Vincent and the Grenadines (SVG) will show support to Trinidad and Tobago, which was recently affected by torrential rain and floods, by donating the sum of US$40,000.
Prime Minister Dr Ralph Gonsalves indicated this during his address at the 39th Independence Day celebration, at Victoria Park this morning.
The Prime Minister had mentioned in his speech that SVG itself has, between 2010 and 2017, lost over EC$700 million, a figure in excess of a third of our Gross Domestic Product(GDP), in damage caused by storms, heavy rainfall, landslides, raging seas and rivers.
"The weather patterns arising from climate change are now unfamiliar in time, type, and seasonality; unprecedented in frequency and intensity; and thus urgent beyond measure," he stated.
On a global level, Gonsalves stated that climate change has given rise to new peace and security challenges.
Due to the situation created by these new challenges, the Prime Minister indicated that the time is right for "a small-island state to seek a role at the United Nations' Security Council as a non-permanent member."
He predicted success in SVG's bid to be elected to the Security Council of the United Nations, representing the GRULAC (the Group of Latin American and the Caribbean) as a non-permanent member for the period 2020 to 2021.
The Prime Minister affirmed the country's position on climate change, stating, "St. Vincent and the Grenadines stand in solidarity with all who suffer from the scourge of climate change."
He announced, "Last week, our Cabinet approved the sum of US$40,000 as a mark of our solidarity with the people of Trinidad and Tobago consequent on the terrible floods which have recently afflicted them."
Trinidad and Tobago was subject to heavy rain between October 18 and 19, which also resulted in strong floods that caused extensive damage to homes and businesses.