Posted on
Duty free concessions and anti-crime sports program among Independence announcements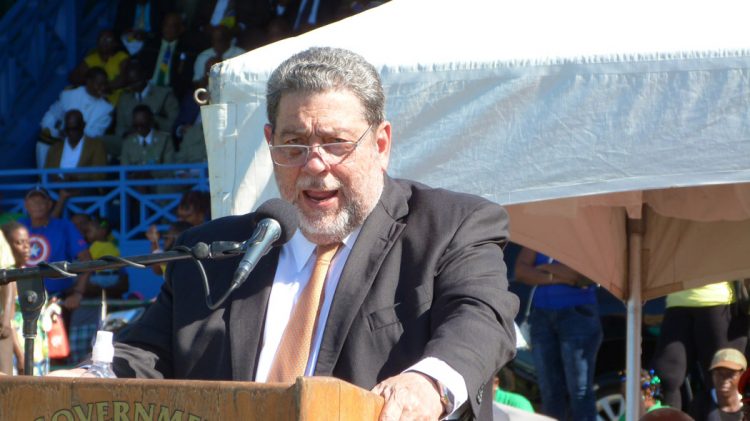 Ten announcements, including the dates for the beginning of duty-free concessions on barrels, the appointment of graduate teachers and the implementation of a 'Sports against Crime' initiative, were announced by the Prime Minister this morning.
Prime Minister Dr Ralph Gonsalves, speaking at the 39th anniversary of Independence celebration, which took place at Victoria Park, announced that the duty-free concessions on Christmas barrels will begin from November 12, and end on December 31.
In addressing the issue of non-appointment of graduate teachers, the Prime Minister said that this year, 100 graduate teachers, who obtained degrees before or during 2012, have been appointed. From January of next year, he promised, "another 120 or so graduate teachers will be so appointed in respect of those who obtained their university degrees in 2013, 2014, and 2015." January 2020 was given as the date for appointment of the remaining graduate teachers.
Secondly in the area of education, the Prime Minister revealed that for those nursing students who are now in the process of acquiring a four year bachelor's degree, "the Government will pay one-third of the already subsidized fees in addition to providing for them monthly stipend of EC $1,000 per month." He indicated that there are also supporting loans available through the "Economically Disadvantaged Student Loan Programme."
Further, he stated, "my government is determined to bolster further the financial assistance granted to its employees (civil servants, police officers, teachers, nurses, nursing assistants), who are pursuing undergraduate studies at the degree, diploma or certificate level." This assistance was said to be for such education received through accredited online schools, the St Vincent and the Grenadines (SVG) Community College, and the University of the West Indies (UWI) Open Campus, and "would amount to up to one-half of the cost of each course which is successfully completed."
The Prime Minister announced that highest number of awards, being 48, were given to those who sat CAPE and Associate Degree exams this year, and that this sum totaled around 7.1 million dollars in awards. "This is a huge investment in the 48 outstanding students in these 2018 Examinations; additionally, their economic costs are paid annually to UWI or other universities. This brings the overall package to in excess of $10 million," he continued.
In the area of sports, the Prime Minister declared that Ian Allen, former West Indies test cricketer, "is now hereby appointed as a Sports Ambassador."
He also announced that "as a companion" to the 'Pan Against Crime' initiative, a 'Sports Against Crime' initiative will be implemented in 2019, with "those sporting associations which are interested in so doing." Two sporting associations were said to have already expressed interest.
Further, Gonsalves stated, "later today at the Chatoyer National Park at Rabacca, some 120 persons will be allotted individual lots of land for housing construction." He noted, "Some 5,000 lots of land have been distributed to deserving beneficiaries since March 2001."
He also announced the Government's decision to "accord a 100 percent duty-free concession to Vincentians on fishing vessels," in the hopes of boosting "private sector investment in the fishing industry."
Lastly, he stated that a "National Committee on the Re-naming of Buildings, Roads, and Parks to reflect the post-colonial condition of our peoples", is soon to be established. "It is high time to alter the nomenclature of colonials; even the names of minor colonials are on our streets and some villages. This is absolutely ridiculous in the 21st century," he commented.