Posted on
HPL enters bankruptcy, paving the way for liquidation of its assets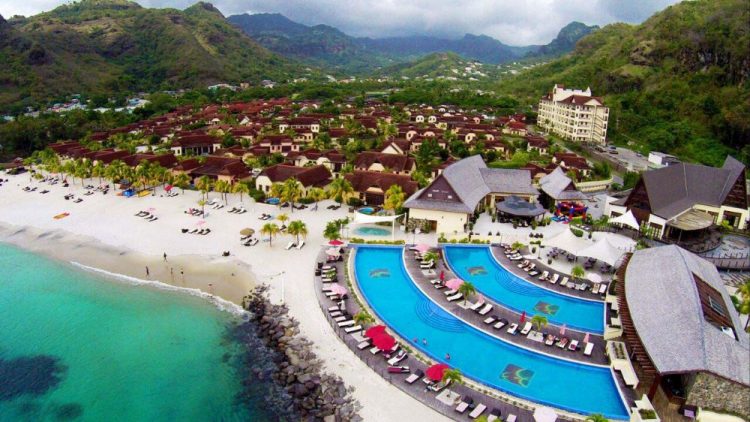 Harlequin Properties Limited (HPL) has gone into bankruptcy.
The company entered bankruptcy yesterday, February 24, following a refusal by the East Caribbean Supreme Court (ECSC) to allow an application HPL had made for an extension to file a proposal to its creditors.
Justice Sir Clare Roberts ruled at a sitting of the High Court in Kingstown, St. Vincent and the Grenadines (SVG) that HPL had not demonstrated that they were deserving of an extension and the application for an extension was denied.
The beginning of bankruptcy proceedings for HLP comes just one week after Chairman of the Harlequin group of companies David Ames was slapped with three charges of fraud by the Serious Fraud Office of the United Kingdom and almost five months after the company formally entered insolvency proceedings. Ames also faces several charges in SVG relating to theft and tax evasion of almost XCD$7 million.
Brian Glasgow, who has been appointed trustee in bankruptcy told SEARCHLIGHT on Saturday that in order to get the judges nod on an extension for an application, a company must prove that (1) it is acting in good faith (2) it is likely that a viable proposal could be submitted (3) no creditors would prejudiced by the granting of the extension.
The trustee said that last Thursday, he filed a report in Court raising a number of concerns about a draft proposal put forward by HLP to its creditors. Glasgow, a partner with auditing firm KPMG said the concerns he raised in last Thursday's report were similar to concerns he had raised in earlier reports filed with the court, this being his sixth such report.
He explained that with Friday's ruling by the judge, effectively, an assignment of the assets of HPL has taken place which has triggered off a liquidation process to try to satisfy the demands of the creditors.
"The liquidator will have wider powers than an interim trustee. The liquidator, for example, can trace assets wherever they may be situated, he can take action against related parties that owe HPL," Glasgow said.
As part of Friday's ruling, Glasgow was appointed trustee in bankruptcy for HPL, an appointment which will have to be confirmed by the company's creditors. Glasgow said the confirmation of his appointment will come through a vote by creditors, wherever they are situated, scheduled to take place in 21 days. The creditors will vote on whether Glasgow will go forward as trustee in bankruptcy or if they would like someone else to be their trustee going forward.
"We have to communicate with the creditors and arrange for the vote," Glasgow said.
He further explained that the bankruptcy trustee has control over the assets of HPL including the possible sale of the Buccament Bay Resort in SVG, the company's flagship project.
Glasgow however noted that any sale of the Buccament Bay Resort will not include the sale of over 20 units within the property that are already freehold and are owned by third parties.
There are approximately 120 working units at the resort, not including unfinished units and an incomplete apartment block on the property.
At last Friday's hearing, lawyer Joseph Delves, who appeared on behalf of a number of creditors indicated that he was opposed to granting an extension for the submission of the proposal. This position was supported by Grahame Bollers, who appeared on behalf of the government of SVG, another major creditor of HPL. The law firm Lex Caribbean, which appeared on behalf of Glasgow indicated to the Court that they had serious reservations on whether a viable proposal could be submitted by HPL.
Attorney Bota McNamara, instructed by Baptiste and Company Law Firm Inc., appeared on behalf of HPL.
On October 6, 2016, HPL formally entered insolvency proceedings to allow the company a maximum of six months to work with a professional trustee to assist it to sort out its business affairs. Glasgow was appointed as insolvency practitioner of HPL and was required to try to reach a financial solution that will satisfy HPL's creditors.
Two months later, on December 16, Glasgow made an application to the High Court to be appointed interim receiver of HPL after the Buccament Bay Resort was forced to close after the St Vincent Electricity Services Ltd (VINLEC) cut the resort's electricity supply because of non-payment. At that time, Glasgow explained to SEARCHLIGHT that he made the application to the Court so that he, as proposal trustee, could act to secure the assets of the company. He explained that under the Bankruptcy and Insolvency Act, where it is believed that "there is a possibility of the assets of the company becoming compromised, and the potential for creditors and investors to lose their investment", there is a facility for the proposal trustee to apply for appointment of an interim receivership to protect the assets.
In relation to last Friday's ruling, Glasgow said HPL still has the option to appeal.
"Everything is subject to appeal. HPL may appeal the judges ruling," he said.