Posted on
Too many school dropouts in SVG says Opposition Leader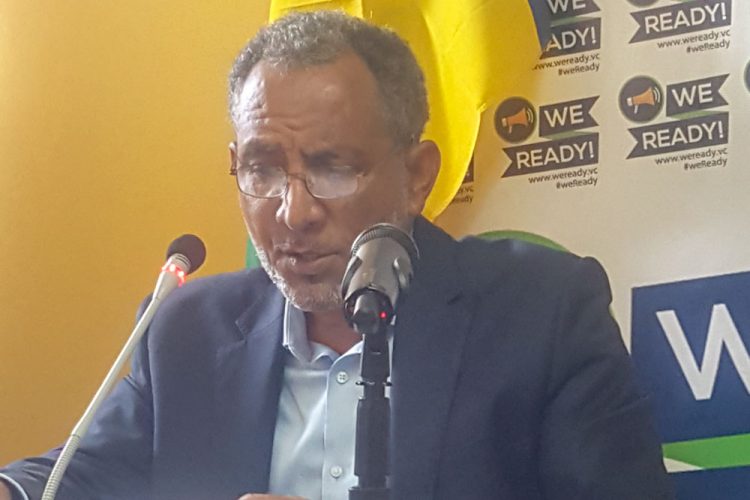 The rate at which students are dropping out of school in St. Vincent and the Grenadines (SVG) is ridiculously high, according to Leader of the Opposition New Democratic Party (NDP) Dr. Godwin Friday.
"It has been on my mind and caused me grave concern," Dr. Friday told reporters on Tuesday, July 31, during a press conference at Democrat House in Richmond Hill.
The opposition leader said that he recently attended a graduation ceremony at the Bequia Community High School and only 10 students graduated.
"Twenty-eight children started in Form One, only eight of them graduated recently. Two others transferred in after Form One, so a total of 10 graduated.
"What was also striking was the fact that of the 10 children who graduated, there was only one boy. Of those who survived to write CSEC exams, we await their results and hope they did well. In our education system, it is the test that validates the student's entire secondary school experience," said Dr. Friday.
He said that it cannot be considered progress when one-third of the students did not survive to take the exam.
"Bequia is not a unique situation. Why are most of the children allowed to drop out before they complete secondary school? Why are there no programs geared to those likely to drop out early, so that they might have a better chance of completing secondary school?" the opposition leader questioned.
He said that urgent action is needed to address what he considers the serious problem of dropouts.
"You can't just say there is universal secondary education and you just can't point to the brilliant students who do 19 and 20 subjects and get 18 ones. That is not the way to measure the performance of an education system. You have to look at what is happening to the average children," said Dr. Friday.
He said that there is a terrible crime situation in the country and in his opinion, "this is where it starts, or at least gets its fuel, when youngsters drop out too early."
Dr. Friday, parliamentary representative for Northern Grenadines, said that he has spoken to persons about the situation in his community, but it seems like nothing is being done.
"We can't treat our children like that," the opposition leader stressed, adding that apart from what he considers the "high flyers" in secondary schools (Grammar School, GHS and Thomas Saunders) a worrying picture is emerging.
"Contrary to government's boasts about the performance of our education system, the picture of failure looms large. The number of children who enter secondary school give the false impression that a secondary education is available to all. But the stark reality is that in some schools, very little education is taking place. Many children drop out before they reach form five or before the five years it would normally take to make that journey," Dr. Friday noted.
Minister of Education St Clair 'Jimmy' Prince, in response, said that the government, since it came to power, has done well to get students through the education system.
He said that the number of dropouts were higher when the NDP was in power and the Unity Labour Party (ULP) administration has done better, as it relates to this issue.
"Maybe the NDP should tell you how many dropouts they were in their time," said Prince, who revealed that the ULP met a situation where only 39 per cent of students were going on to secondary school.
"…now we have 87 per cent going to secondary school," stressed Prince, adding that there are remedial programmes in place at secondary school, while there are early learning programmes in primary schools.
"We have remedial programmes because we expected there would be some weaknesses going into the secondary schools. There is also an early learning programme in primary schools where we are trying to deal with the problems before they go into secondary school… we have the programmes," said Prince.
He added also that there are a number of reasons for people dropping out of school.
"It could be carelessness, people migrating, it could be frustration, but we haven't yet addressed our minds to all these problems. Different schools have different problems, but we are on top of the problem and we are trying to work on it," noted Prince who added that a lot of persons who drop out pursue their education through other means, including evening classes and the Adult and Continuation Education (ACE) programme.