Posted on
Olympic watching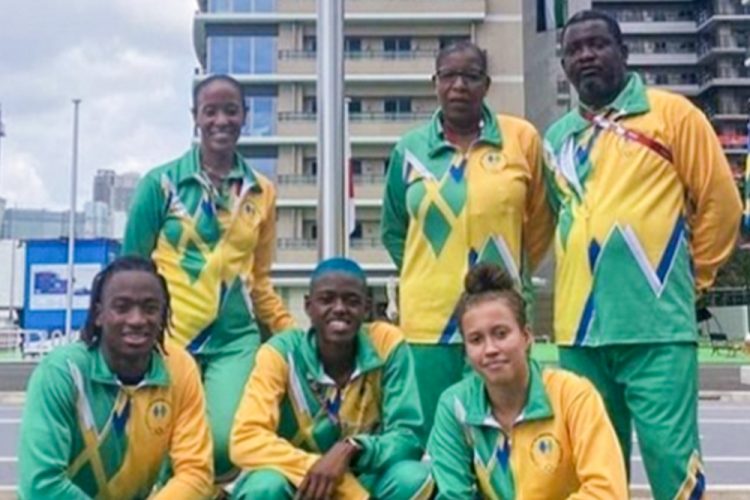 Like hundreds of millions of other human beings on planet earth, black and white, red and brown, rich and poor, male, female or otherwise, I find myself following daily the exploits of thousands of the world's athletes as they pit their skills against each other, thousands of miles away from home.
Yes it is OLYMPICS time once again, and this year these grand global games are being staged in the Japanese capital city of Tokyo, not only a fair distance away from Caribbean shores but also with a time difference of 13 hours. It brings back fond memories to me of the very first Olympics I was able to follow, by radio of course, as a teenager in 1964.
That Olympiad, as the Games are officially called, was also staged in Tokyo. It was ironic that the dominant powers in the world agreed to Japan hosting the 1964 Olympics, since Japan was horribly devastated and ravaged by the deployment of US nuclear weapons, an act that many historians today consider as unnecessary since it was clear then, in August 1945, that Japan too, like Nazi Germany, would suffer defeat in the Second World War. Incidentally, that atom bomb was dropped on the Japanese city of Hiroshima on August 7. The 32nd Olympiad ends on August 8.
The world had changed a great deal since the Tokyo Olympics of 1964. Today we are able to follow every step taken and every move made at the Games through the use of a multiplicity of multi-media devices. Then, we had to rely mainly on BBC reports and I still recall rushing from school each midday to follow the exploits of the Trinidadians Wendell Mottley, Edwin Roberts and their colleagues as they brought glory to our part of the world. This, as we now are aware, was but a forerunner of things to come as the newly-independent countries of the Caribbean began to stake their place on the global world stage.
An understanding of these matters demonstrate to us why participation in such global events is so important to small countries like ours, and why sport is as valid an area of investment as any other in our quest for development. Even smaller countries like SVG, with our limited means and miniscule delegations, have a valid place in this grand sporting spectacular. There is no other umbrella which gathers so many sporting disciplines. The Olympics is the colossus of sport on this planet.
Our congratulations, praises and encouragement must go out to our own Shane Cadougan for winning his swimming heat and to the other members of the SVG delegation for their participation. Let us build on it for it is an opportunity not only for the advancement of our athletes but also to market this country of ours on the world stage.
The Olympics have undergone many changes since their revival in 1896, bringing back an old Greek tradition. Very often today, such is the intensity of sporting rivalry that it is forgotten that the main purpose of the Games is not to see which country or athlete wins the most medals, or achieves sporting superiority. The emphasis was on using sport to build friendship and solidarity among the world's peoples.
Unfortunately the revival of the Olympics coincided with the growth of imperialist rivalry and, while the Olympics provided a noble cover, great power rivalry and nationalism soon exposed the Games to the temptation to use sporting prowess as a means of political power and influence. It did not take long after the defeat of Germany in World War 1 for Hitler to try and use the 1936 games hosted in the German capital Berlin, to try and spread his obnoxious theory of white superiority. Fortunately, it took a black athlete, Jesse Owens of the USA, who would have experienced racial discrimination in his country, to explode Hitler's pernicious ideology by soundly trouncing white athletes all the way to four gold medals. So much for racial superiority on the field of sport!
But the post-World War 2 Cold War threatened to envelop the Olympics in an East-West tussle which had ideological roots and led to an intense campaign, particularly by the USA on one hand and the Soviet Union on the other. The Olympics became a stage for the supposed clash between socialism and capitalism which was to have disastrous consequences.
It helped to fuel the disastrous injection of hormones to enhance sporting performance, the consequences of which are still with us today. In addition, this intense rivalry was such that it nearly broke up the Olympic movement itself. The Americans and their allies led a boycott of the 1980 Games in Moscow, lawfully allotted to the Soviet Union as host. The reason given was the Soviet invasion of Afghanistan, five years after an American invading force had been run out of Vietnam.
Four years later came the expected retaliation, the Soviet-led boycott of the 1984 Games in Los Angeles. But these manifestations of great power rivalry were but a reminder that political issues were very much a part of the modern sporting agenda as we shall see as we wrap us this two-part series next week.
Renwick Rose is a community activist and social commentator.