Posted on
Bequia non-profit donates $5000 to Red Root SVG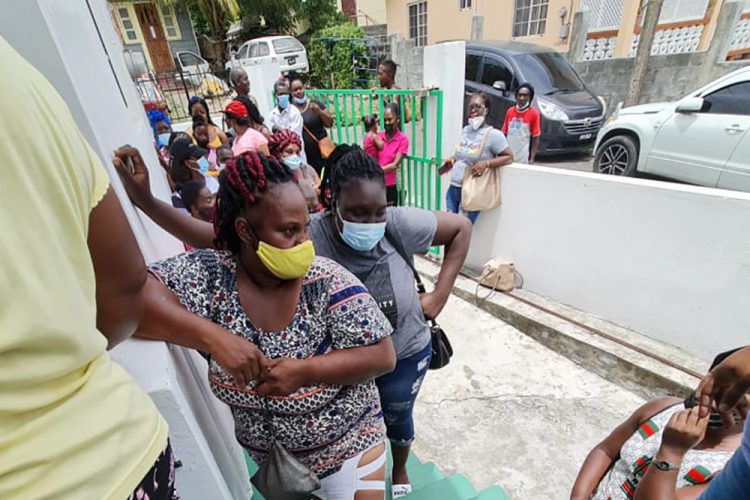 RISE UP Bequia, a non-profit organisation, has donated $5000 to Red Root SVG, an entity that works to support women, children and adolescents.
Rise Up Bequia director, Tracy Simmons, handed over the donation to Phylicia Alexander of Red Root SVG as the organisation continues its relief efforts to those displaced across St. Vincent and the Grenadines, a release from the Bequia organisation stated.
In an effort to raise up other non-profits which have been working tirelessly over the past 10 weeks, we have formed a partnership with the social-focused Red Root SVG, the release added.
RedRoot SVG was founded to support and empower marginalised children, adolescents, and women who are victims of violence or abuse. Their mandate is achieved through a series of training workshops and projects. One of the projects which has been focusing on unemployed young mothers and adolescents is called the Grocery Through Education Project.
This project consists of four components, a monthly food basket (amount depends on the size of the family), stipend for transportation, skills training through certified recognised entities, and mentorship. Registration for this program has commenced and the executive of Red Root SVG requires ongoing funding to achieve components two and three of the project.
Rise Up Bequia, impressed by the nature of this much-needed work has donated the $5000 to help Red Root SVG continue to connect with their demographic and offer much needed support and encouragement.
Despite many challenges due to the Covid-19 pandemic which were further exacerbated during the eruptions of La Soufriere volcano, the Education Through Grocery Project has facilitated and assisted 14 participants obtaining skills in tie dying, mixology and floral decorating.
Red Root SVG's mission is rooted in the value of Healing, Educating, Promoting Equality, Justice, Partnership and Trust among children and young girls. Their goal is to empower young girls and women to make a difference in their lives so they can in return do the same.