Posted on
Sagicor recognises David 'Darkie' Williams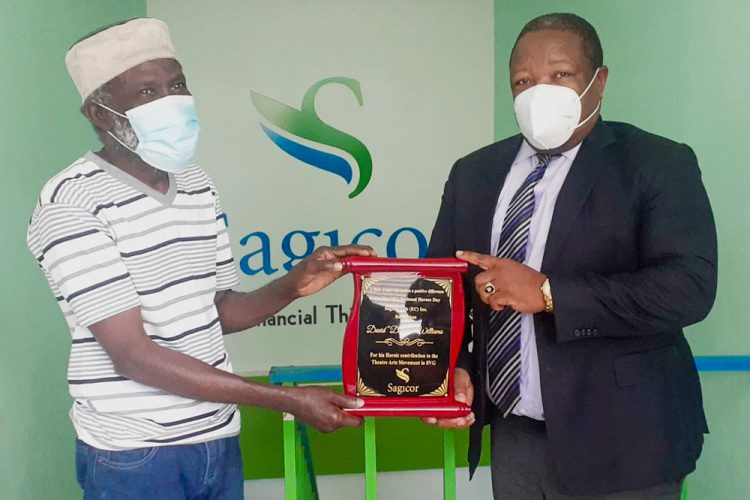 NATIONAL CULTURAL icon David 'Darkie' Williams was honoured by SAGICOR for his contribution to the theatre community National Heroes Day 2021 as part of the insurance company's contribution for National Heroes Day.
In a release, Sagicor said that in addition to being presented with an award, its team got together to pay tribute to the wellknown cultural contributor whose support of the community goes back 50 years.
General Agent and Principal Representative for Sagicor Life (EC) Inc. Stanley Browne, presented the award to Williams and thanked him for his contribution to the very vital sector in St. Vincent.
"All of us are inspired by David who continues to use every fibre of his being to ensure that our culture is not diminished in any way. Our way of life is not to be devalued. Matters of culture are the things that are inherently Vincentian and we must hold them dear. David shows us the way," Browne said.
Williams who is well known in SVG as the "father of drumming" was said to be overwhelmed and expressed his deep gratitude to Sagicor for the recognition.
He said: "When I set out to do theatre almost 50 years ago, I wasn't thinking of things like this. I grew up in culture, I grew up in a cultural house with grandparents who were deeply embedded in whatever there was for the performing arts back in the 1950s and 60s. I thought the artform needed to take a different turn and I set out doing theatre and other aspects of the artform, seeing what I could contribute towards helping it to make that turn," Williams said.
He continued: " whatever are the perks that come with it I am pleased, and I feel honoured, specifically I am honoured that Sagicor is recognizing me in this way. Thank you very much."
Williams grew up in Sion Hill, where he lives to this day. Born into a family in which drumming was as natural as breathing, he began participating in cultural activities at an early age, and this led to an interest in and an eventual love for all things artistic. His years embedded in culture and in the community of St Vincent coupled with training stints at the University of the West Indies, the Edna Manley School of Performing Arts and the John F Kennedy School of Performing Arts in Washington means that even now his experience is valued as an Assessor of practical in the Theatre Arts Exams for CXC.