Posted on
2021 Hairouna Film Festival goes online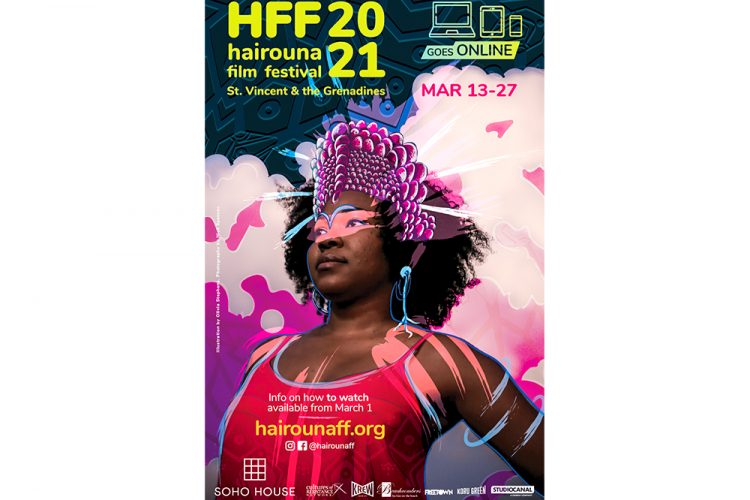 Hairouna Film Festival (HFF) in collaboration with Soho House are currently staging the 2021 edition of Vincy's premiere film festival online with free Caribbean films from filmmaker, Q&A's and workshops with industry professionals.
Organisers said that HFF, which opened on March 19 and culminates on March 27, had a successful virtual launch on March 13 which featured a special screening of Idris Elba's Yardie (courtesy of Studio Canal). The film screening was followed by a conversation with HFF's new partner, actor/writer/director Aml Ameen (Yardie, The Maze Runner, I May Destroy You).
Vincentian filmmakers took center stage during the opening night dubbed 'Vincentian Film Focus' featuring a total of 14 short films telling the stories of Vincentians at home and abroad . HFF said it is proud to screen the work of Indira Layne, Jamali Jack, Kengy Moné, Kamillo Edwards, Akley Olton, Joel Tyril, Melanie Grant, Hayden Billingy, Javed DaSouza, Zurie Adams, Sean Roache, and Aiko and Vonnie Roudette.
This year, the festival welcomed the international members' club Soho House to the HFF family. As well as supporting HFF, they have been working with the team to develop a national competition open to Vincentian filmmakers. The aim of this competition is to support the development of local filmmaking talent by providing filmmakers with the tools and resources needed to realize their projects.
Their official selection boasts 45 films from the Caribbean community, including films from the non-English speaking Caribbean. All screenings are followed by Q&As with the filmmakers.
The second day of the festival hosted a selection of funny short films from Puerto Rico, Barbados, Trinidad & Tobago and Jamaica and rounded off with with Too Lickrish (2019), a feature comedy film by Vincentian filmmaker Tolga Akcayli.
HFF honors its support of the environmental movement with a selection of films committed to this topic; including Akley Olton's Help The Climate Change (St. Vincent and the Grenadines) and Claudia Claremi's El Monte (Cuba), as well as Michael Lees' documentary feature film Uncivilized (Dominica).
On Friday, March 26 a series of animated shorts will precede the award-winning animated feature film, Battledream Chronicle (2015), directed by Martiniquan filmmaker Alain Bidard. This film was the first of its kind made in the Caribbean, gaining over 70 nominations worldwide.
HFF 2021 will close out with a gorgeous selection of short fiction films, such as Maya Cozier's She Paradise (Trinidad) and the Martiniquan musical short film, Goyave. The festival closes with an impressive cinematic rendition of the novel Green Days By The River, directed by Trinidadian Michael Mooleedhar.
In collaboration with GYAL, HFF will host a panel discussion 'Caribbean Women In Film' on March 27. Additionally, Aml Ameen will be available to discuss writing, directing and acting at a later date.
Persons can follow the Hairouna Film Festival on Instagram, Facebook and Twitter @hairounaff for updates.