Posted on
Debrah Halbich wins $210,000 Super 6 jackpot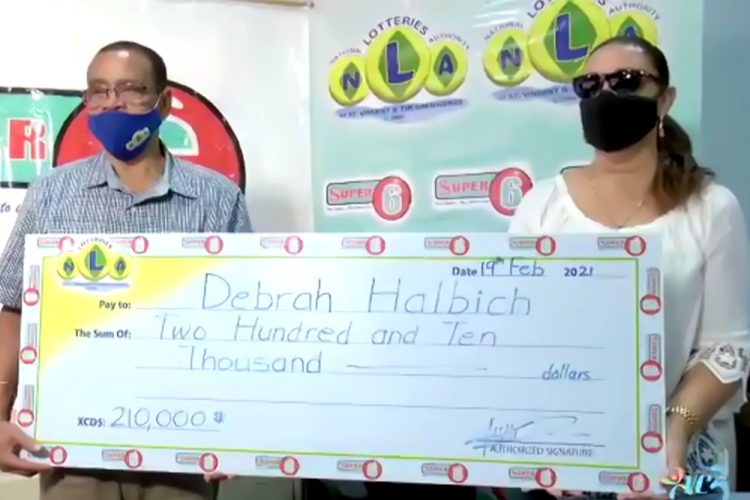 Indian Bay resident Debrah Halbich is St Vincent and the Grenadines' latest Super 6 winner.
Halbich, who won the February 2 draw, was presented with her jackpot winnings of $210,000 during a short ceremony last Friday. It was carried live via the Zoom platform.
The winning numbers were 2, 9,11, 12,18 and 28 and the winning ticket was bought at Scouts Lotto booth in Arnos Vale.
Anthony Dennie, the National Lotteries Authority (NLA) product development officer noted that Halbich's win is the first since the decision was made to bring forward the draw of the multijurisdictional game to 6 pm, because of St Lucia's current national curfew of 7 pm.
Halbich, who donned a black face mask and dark sunglasses during the presentation said she didn't have any comments to make on her win, shortly before accepting the cheque and signing the relevant paperwork to collect her winnings.
McGregor Sealey, NLA's general manager congratulated the latest winner of the Super 6 game.
"The National Lottery, we are very happy with our sales during this period and Mrs Halbich, we want to congratulate you," Sealey said.
The general manager noted that he would usually caution winners to spend money wisely but did not feel the need to do so as the winner is a businessperson, who would know how to manage the additional funds.
Dennie, the product development officer thanked the people of SVG for their continued support of the NLA games and encouraged both the customers and agents to adhere to the protocols that have been put in place by local health authorities.
He also encouraged persons to utilise NLA's mobile trailer stationed on the compound in Paul's Avenue, where all games are sold.