Posted on
KTI's 2020 graduates receive their CVQ certificates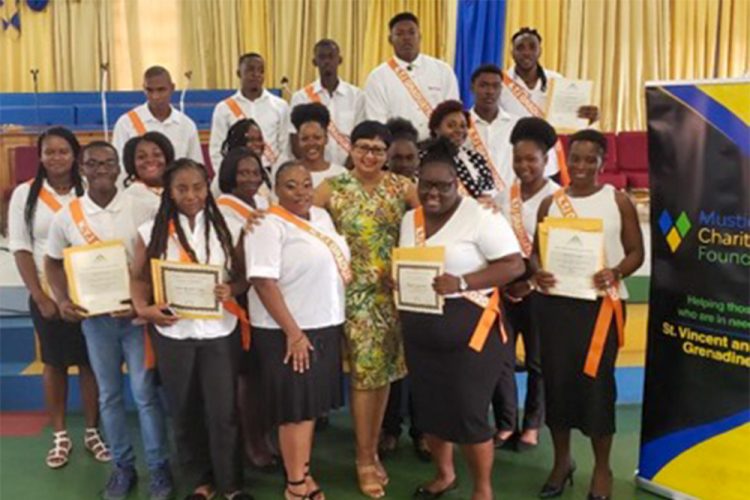 On December 9, the Kingstown Technical Institute (KTI) held its 2020 Graduation Ceremony which had been postponed from July because of the Covid-19 pandemic.
A release from the KTI said the event turned out to an historic one in the life of the Caribbean Vocational Qualification (CVQ) programme as it was the first time that the graduates were being awarded their CVQ certificates at the graduation ceremony, as they usually take a while to be validated.
The Sector Skills Development Agency (the National Training Agency) ensured that the trainees were able to capitalize on this delay, the release said.
This event, which was held at the New Testament Church of God, Wilson Hill, had as its theme "Our skills, our bridge".
The principal in his remarks encouraged the graduates to use their recently acquired technical and vocational skills as a "bridge to success, joy, peace, humility, hope, community, entrepreneurship and most of all to Christ." He also commended the CVQ instructors for working above and beyond the call of duty into August and one programme into December, to ensure that their trainees completed the CVQ qualification. The instructors were presented with love tokens for their contribution.
The Mustique Charitable Foundation received commendation for supporting the trainees with lunches during their period of training. The RSVG Police Force Fire Service was acknowledged for training the cohort in fire safety and fire suppression skills. The Government of Taiwan was praised for providing scholarships for a few trainees during the 2019-2020 school year, whilst the National Qualification Department (NQD) was applauded for their quality assurance supervision during the period.
Most outstanding programme awards were presented to Japhina Joseph (Electrical Installation 1), Temisha Caine (Data Operations 1), Lisanne Mathews (Plumbing 1) and Shanniah Clarke (Food Preparation and Cookery 2). Lisanne Mathews was awarded the Principal's Award as the most spirited trainee.