Posted on
Two Vincentians off to the US on Hubert H. Humphrey Fellowships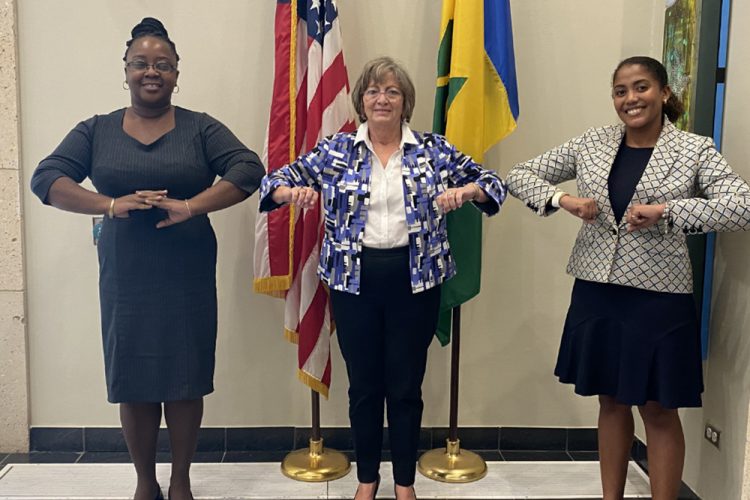 Two Vincentian women have been selected for the 2020-2021 Hubert H. Humphrey Fellowship Program in the United States, the US Embassy to Barbados, the Eastern Caribbean, and the Organization of the Eastern Caribbean States has announced
The awardees of the Hubert H. Humphrey Fellowship program are Kayanna Burke and Benarva Browne.
The program is a Fulbright professional exchange program which brings accomplished young and mid-career professionals to the United States for an academic year of non-degree graduate-level study, leadership development, and substantive professional collaboration with US counterparts. Humphrey Fellows are nominated based on potential for leadership and their demonstrated commitment to public service.
Browne, a senior technical advisor with Bentley Browne Town Planning Consultancy in St Vincent and the Grenadines will pursue a fellowship in Urban and Regional Planning at the Massachusetts Institute of Technology in January 2021, while Burke, an establishment officer in the Policy, Planning and Administration Division of the Ministry of Finance in St Vincent and the Grenadines, began her fellowship in December in Public Policy Analysis and Public Administration at the University of Minnesota.
During the academic year of 2020-2021, Humphrey Fellows will participate in programs that combine graduate-level academic course work with professional development activities. The program is not designed to offer a degree, but rather to provide broad professional enrichment through a combination of activities tailored to each Fellow's interests. Upon completion of the program, participants are enrolled as exchange alumni of the US Department of State and engage in initiatives that develop their islands in their respective areas of expertise.
The Hubert H. Humphrey Fellowship Program celebrated 40 years of developing young and mid-career professionals in 2019.