Posted on
Fanfare SVG coming bigger and better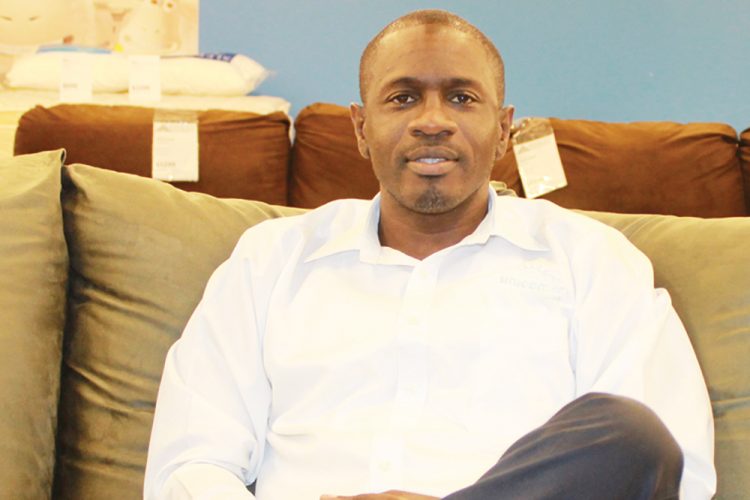 Fanfare SVG Inc – Events and Distributions, is 'reopening' next week in a more spacious location at Adams Brothers Building, Arnos Vale as it continues to take meaningful strides in its nearly 12-year business journey.
Many will know of Fanfare from the name they created for themselves in the Events industry, with event rentals, event planning, and event décor and design.
However, Fanfare SVG Inc is an umbrella brand, that now also encompasses the sale of a wide range of top brands in consumer cleaning products under the tagline "Making life cleaner".
This move came after the COVID-19 pandemic took St Vincent and the Grenadines, as well as the world, in its grip earlier this year.
Business and economy were much affected, and events ground to a standstill by the social distancing protocols.
Chief Executive Officer (CEO) and Founder of Fanfare SVG, Alexis John said in light of the changing times, he first came up with an initiative to make it easier for the public to wash their hands in Kingstown. He partnered with the Bank of St Vincent and the Grenadines in a campaign dubbed 'Clean Hands', to which more and more institutions would come on board.
In the months following this, came the idea for Fanfare to sell cleaning products.
"But do it in a unique manner. Offer a differentiated product, focus on the bigger, or global brands," the CEO stated. The cleaning products are geared towards simplifying cleaning, with effective results, at an affordable price.
"I started it in May, on a very small scale at our Fanfare Events Office upstairs Massy, Arnos Vale," he noted, but this office was designed for events consultation and not retail.
After searching for a new location, Fanfare will now be reopening next Tuesday, December 1, 8am 'sharp' at the Adams Brother's Building (the Moon).
"Now customers can simply walk in, pick up any cleaning product that they wish," John said, and "we have a nice event consultation space, that I think that our clients and potential clients would really love."
Along with the new inviting space, the company itself is going to redefine its customer service delivery.
Further, they have an entirely new logo, designed for their presence to be felt.
"This is not even a new chapter, this is a new book that we're writing," John summarised.
"I'm over the moon about it, and I'm looking forward to serving every client, every customer, with distinction," the CEO revealed, "Not only myself, but my entire team."
In commenting on his excitement and pride, the founder reflected on the beginning.
"It will be remiss of me not to mention how God has been good. God has been good; without him nothing is possible," John stated.
"…What he has done for me over the years, huge," he noted, "My story – it's because of him."
John, who has a background in Marketing, was employed with COURTS (SVG) Ltd when he was hit with a sudden thought that he should start a business in the events industry.
Since then, he has pushed forward despite the obstacles, including rejections from four financial institutions who did not believe SVG was ready for these services.
"This market has been very, very kind, oh so kind, loyal and supportive. I just want to say thanks to SVG for that, because without them I don't think I would have been here now," John noted.
Fanfare's move coincides their Christmas promotional campaign "The Christmas Cleaning Checklist".
"Whatever is on your checklist, or whatever you need when it comes to cleaning, we have it and you need to ensure that you get it on your checklist," John assured.
Further, if a customer spends $50 or more, they will get the opportunity to win three months cleaning supplies, valued at $100 per month.
Persons are encouraged to follow Fanfare's social media pages, should they wish to follow the surprises and sales that are in store for the season.