Posted on
SVG coast guard service celebrates 40 years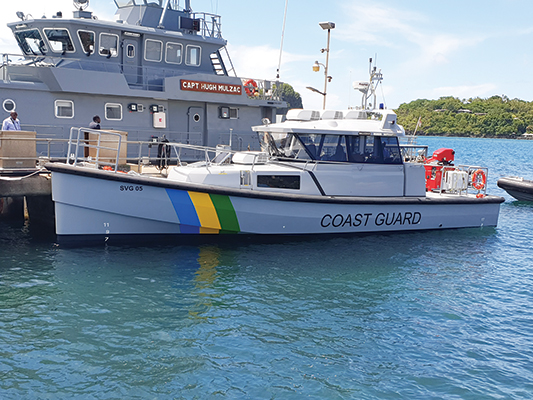 The St Vincent and the Grenadines Coast Guard Service within the Royal St Vincent and the Grenadines Police Force was established on December 2, 1980.
As such, the SVG Coast Guard Service will be celebrating its 40th anniversary of existence on December 2, 2020 with a week of activities in recognition of this milestone.
The week of activities will commence on Sunday, November 29 with a church service at the Calliaqua Anglican Church and culminates on Friday, December 4 with a Coast Guard Anniversary Social at the Coast Guard Base in Calliaqua.
The events for the week of activities are as follows:
(i) Sunday, November 29, 2020 at 7:00am – Church Service (Calliaqua Anglican Church)
(ii) Monday, November, 30 2020 between 9:30am and 4:00pm – Open Day at the Coast Guard Base, Calliaqua (tour of Captain Mulzac). Appearance on the Police On the Beat radio programme at 8:00pm on NBC Radio
(iii) Tuesday, December 1, 2020 – Community Project (visit to Children's/Nursing home
(iv)Wednesday, December, 2, 2020 – Sports/Fun Day
(v) Thursday, December 3, 2020 – The distribution of Food Basket/Good will package at 10:00am. An appearance on the Police, Care Serve Protect facebook live programme at 8:00pm – until
(vi) Friday, December 4, 2020 – Coast Guard Anniversary Social from 3:00pm until.
Commander Brenton Cain extends sincere thanks and gratitude to the general public for their continuous and relentless support to the SVG Coast Guard Service over the past 40 years. He further stated that the partnership forged over the years has fostered the catalyst for growth within the organization.(API)