Posted on
US Embassy and SVGCC Screen Broadway Musical Hamilton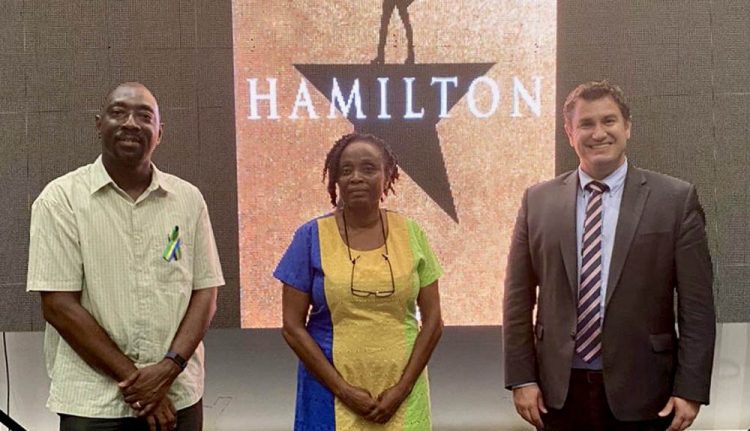 Ahead of Independence Day in St. Vincent and the Grenadines, US Embassy Public Affairs Officer Larry Socha and Public Affairs Associate Caitlin Moran shared the story of US Founding Father Alexander Hamilton from America's own revolutionary and independence history.  Hosted by Nigel Scott, Director of St Vincent and the Grenadines Community College (SVGCC), the Embassy screened the film Hamilton on Friday evening, October 23.
"We are so happy to share with you tonight a unique art form, the American musical, and the one-of-a-kind story of Alexander Hamilton that began right here in the Eastern Caribbean.  This is a story of the values that the United States and St Vincent and the Grenadines share – freedom, entrepreneurship, and perseverance," Socha said in his opening remarks.  Scott welcomed the Embassy representatives back to SVGCC noting the Embassy's long association with the college, most recently through the presence of Fulbright scholar Dr Robert Cunningham.
The original New York City Broadway production of Hamilton – a mix of musical styles including hip-hop, jazz, and R&B – opened in 2015 to rave reviews.  Hamilton the film, presented by Disney, transports the audience to the world of the Broadway show in a uniquely intimate way.  The film became available through the subscription streaming service Disney+ in July, and through a special arrangement with the US Department of State and in observance of COVID-19 health protocols, the SVGCC screened it for an invited audience of 50 students, faculty, administrators, and friends.
Following the film, lecturer emeritus Descima Alexander-Hamilton discussed the main themes of the film and shared Vincentian connections to the Hamilton story, including the history of the final years of Alexander's father, James Hamilton, in Bequia and his burial at St George's Cathedral in Kingstown.
Decima Alexander-Hamilton also raised the issue of gender roles in the film and the degree to which norms had changed over two and a half centuries.  Several members of the audience remarked that while constitutions and legislation had advanced, culturally there was still much work to be done to realize true equality for women.  Two Vincentian participants in the US Embassy's inaugural Women in Politics Leadership Institute, Aria Laidlow and Moureeze Franklyn, attended the screening and shared with the Embassy representatives their hope for how that program could continue to support women in politics and government.
The evening concluded with reflections on what would have happened if Alexander Hamilton never left the Caribbean.  One audience member said, "I think it just goes to show that across our islands there are still many Alexander Hamiltons – intelligent and industrious."  Another added, "Now our job is to find a way to support them and help them make a difference here at home."