Posted on
West St George Secondary School achieves its highest pass rate in CSEC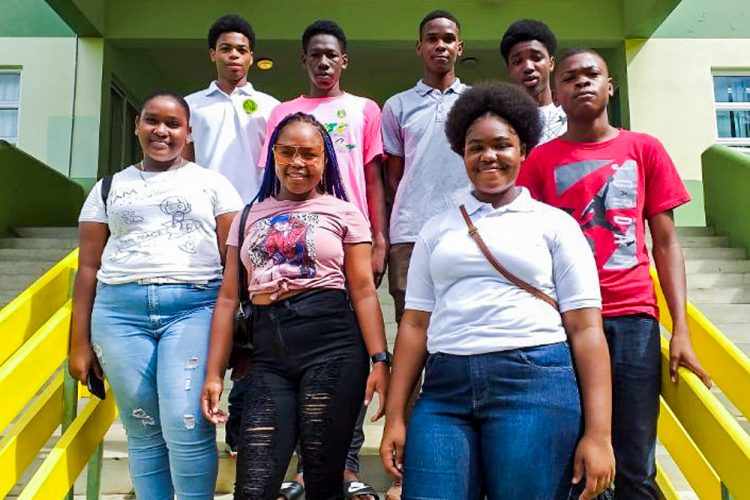 The West St George Secondary School's 2020 CSEC results show the school achieving an 83.34 pass rate, its highest thus far in the regional examinations.
The male candidates in the examinations out-performed their female counterparts by 7.25 per cent. While the female students returned a pass rate of 79.28 per cent, the males' pass rate was a triumphant 86.53 per cent.
Ten subject areas recorded an unprecedented pass rate of 100 per cent. These included Agricultural Science, Biology, Electronic Document Preparation & Management (EDPM), Geography, Industrial Technology Building, Office Administration, Physical Education, Principles of Accounts, Principles of Business and Theatre Arts.
Several other subject areas registered very commendable performances such as Social Studies with a pass rate of 90.33 per cent and Family and Resource Management, 80.33 per cent.
"The school is also quite ecstatic with the significant improvement shown in this year's Mathematics performance.
Sixteen of the 26 students who sat this subject area obtained a pass in Maths, therefore creating a pass rate of 64%.
A further analysis of the results showed that there were 22 Grade Ones, 80 Grade Twos and 108 Grade Threes," a release from the school said.
Individually, several of the West St George Secondary School's class of 2020 secured praiseworthy commendations.
Among them are eight students who passed all eight of their subjects. These students are Bryanna Baptiste, Sarah Turtin, Akeem Dennis, Jahva Audain, Shamar Davis, Diaz Roberts, Mozaki King and Tishera Sutherland.
Furthermore, there were three students who passed seven subjects, six students who passed six subjects, and seven students who passed five subjects.
The West St George Secondary School opened its doors in September 2004, largely to accommodate students, courtesy the Universal Secondary Education policy of the government. Many of its traditional students entered form one with failing results from the Caribbean Primary Exit Assessment (CPEA) examination, formerly the Common Entrance exam, or very weak literacy and numeracy skills. It is with this historical perspective that the school sees the critical need to publicly celebrate the successes of its students at the CSEC level.