Posted on
Courts donates aeroboxes to help protect frontline workers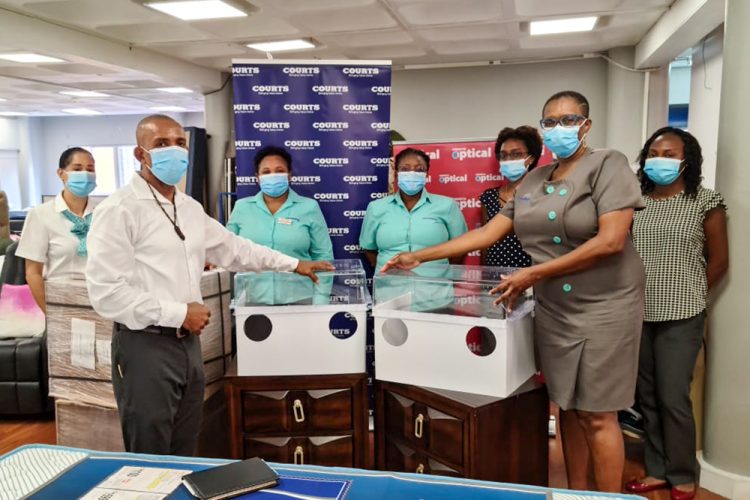 COURTS (ST VINCENT) Limited, in partnership with Mabe, their largest supplier of appliances, has donated to the Ministry of Health Wellness and the Environment, six aeroboxes to be used for the protection of frontline health workers in the intubation of patients.
The donation was made as part of Courts response to the Covid-19 pandemic, and a release from the company said Courts and Mabe will together be donating 30,000 aeroboxes throughout the countries in which they operate.
"At Courts (St Vincent) Limited we continually strive to be excellent corporate citizens. We are happy to join again with the Ministry of Health in demonstrating that our health is our shared responsibility. Indeed, we are all responsible individually and collectively for the health of our nation's people.
"The Covid-19 pandemic has affected all of us in one way or another. Despite having to cut hours and lay-off staff for a short period, our Company has quickly responded by offering assistance in several spheres. We have assisted our own teams with care packages; we have recently launched our Credicare programme which provides our customers who have been affected by the pandemic, either directly or indirectly, with several options for lightening the burden of their payments, and even putting spending power back in their hands so that they are still able to shop.
Our Company has previously donated furniture and appliances to the tune of $15,000 for outfitting the Covid-19 Isolation Centre. We also continue to donate sanitizing equipment and furniture to schools and organizations to assist them in complying with Covid protocols," a release from Courts SVG said.
"We take this opportunity to congratulate the Ministry of Health, Wellness and the Environment in the management of Covid-19 and to encourage you and wish to all the best as you continue in this fight and also working towards improving our health care services in general. WE particularly salute our front line health care workers who certainly have an unenviable job, especially at this time," the release said.