Posted on
Finalists in Secondary Schools Public Speaking Competition to be named next week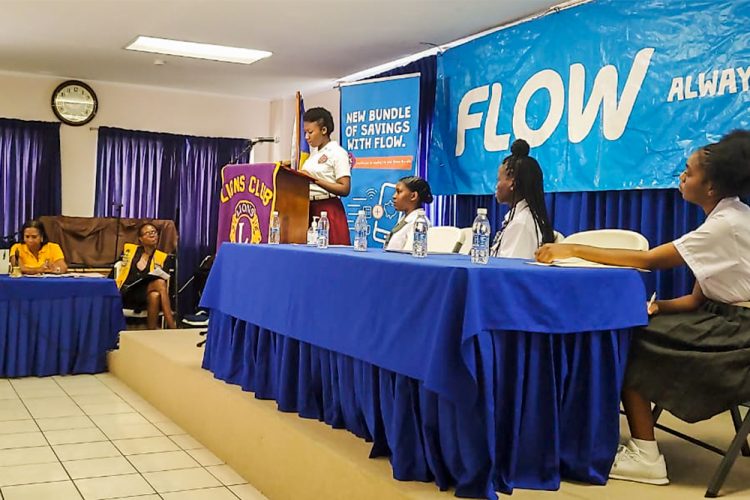 Secondary school students are this week pitting their public speaking skills against each other as they vie for a place in the finals of the National Secondary Schools Public Speaking Competition.
Seventeen students competing in four zones are competing for a place in the finals of the annual Lions Club St Vincent South / FLOW Secondary Schools Public Speaking Competition.
The preliminaries, which are being held at Frenches House in Kingstown are taking place over four consecutive days beginning September 29 and ending today.
From these rounds, six students with the best scores for the prepared and impromptu speeches combined will advance to the finals scheduled for October 22.
On Tuesday in Zone 1, Marika Baptiste of the Girls' High School, Deontra Morgan of the Bishop's College Kingstown, Ovinceia Browne of the Dr J P Eustace Memorial Secondary School, Tenesha Ralph of the St Clair Dacon Secondary School and Gia Gloster of the Union Island Secondary School spoke on the topic "Racism, inequality and problems of class are not issues we should be concerned about in St Vincent and the Grenadines".
On Wednesday in Zone 2, Stanislus Gomes of the St Vincent Grammar School, Kate Ollivierre of the Bequia SDA Secondary School, Jeremiah Bernard of the Bequia Community High School and Noah Jackson of the West St George Secondary School spoke on the topic "The world and unfortunately many countries in the region are on steady paths to creating dystopian societies."
On Thursday in Zone 3, Charity Hope of the St Joseph's Convent Marriaqua, Kenally Texeira of the Georgetown Secondary School, Shania Simmons of the Adelphi Secondary School and Ariana Jardine of the Mountain View Adventist Academy spoke on the topic "Many of the vulnerabilities faced by small island developing states are increasingly played out in the realm of food security."
Today, Friday in Zone 4, Kyle DaSilva of the St Martin's Secondary School, Gabryel Ellis of the Central Leeward Secondary School, Angeliah Corke of the Troumaca Secondary School and Kayzannie Phillips of the Thomas Saunders Secondary will discuss the topic "The world of alternative facts is becoming far too common among our politicians and leaders".
The six finalists will be announced next week.