Posted on
Eleven vehicles damaged in multi-vehicle accident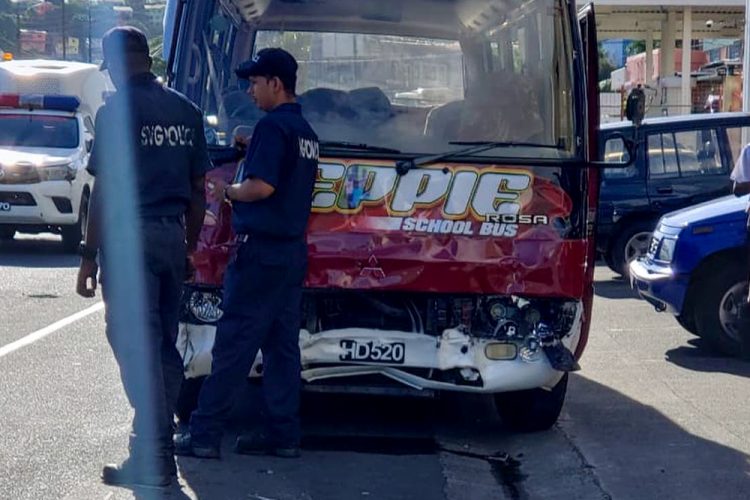 Police are investigating a motor vehicle collision that occurred on Friday September 11 between 3:40 pm and 3:42 pm at Casson Hill, extending onto the Arnos Vale public road.
A release from the police said according to investigations, motor vehicle HD520, a Mitsubishi 26 seater school bus driven by Morton Neptune of Byrea was travelling from Kingstown to Georgetown with a number of students from various Secondary Schools in Kingstown.
"There was a buildup of traffic and upon reaching Casson Hill the traffic came to a standstill. As a result, the driver reportedly attempted to apply brakes but to no avail. In light of this, his futile attempt to stop the vehicle resulted in motor vehicle HD520 colliding with 11 motor vehicles until it eventually stopped in the vicinity of the Sunrise Supermarket in Arnos Vale," the release said.
Seven persons sustained minor injuries. Some vehicles received slight damage while other vehicles were extensively damaged.
The release said the scene was visited by the police and the motor vehicle inspectorate. Motor vehicle HD520 was reported to have experience mechanical failure.
The Royal St Vincent and the Grenadines Police Force (RSVGPF) wishes to advise owners and drivers of motor vehicles to check and service their vehicles regularly to avoid any unforeseen accidents/incidents.