Posted on
CWSA hands over scholarships and bursaries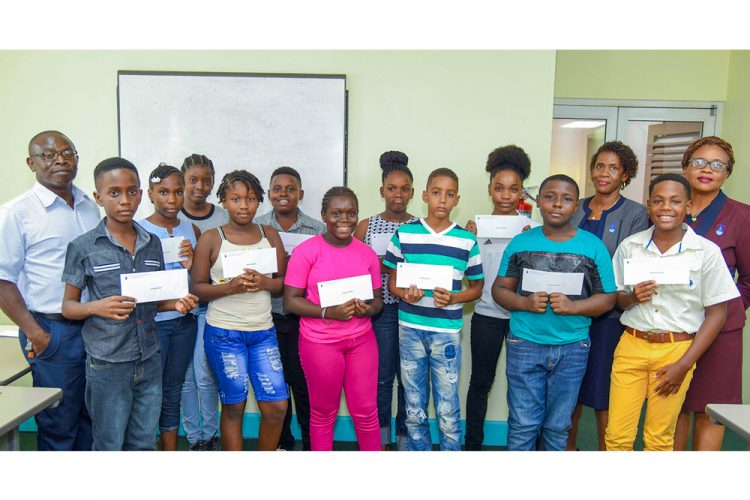 The Central Water and Sewerage Authority (CWSA) of St Vincent and the Grenadines has once again acknowledged the efforts of children of its employees who successfully wrote the Caribbean Primary Exit Assessment (CPEA).
On Wednesday August 14, a ceremony was held where the efforts of 14 children were rewarded as they received scholarships and bursaries.
Xania Archibald, Brandon George, Alando Bobb, Clarencia Caine, Ronique Davis, Le-Anja O'Garro, six of the 14 students received seven-year scholarships to complete their secondary and college level education, while Keason Byneo, Kahrice Jones, Kelbert Collins, Kalyssa Dyer, Xiomara Henson, Kara Roberts, Domonic Barnwell and Angelina Francis all received one off bursaries.
While this initiative is a great one for students as it assures their participation in the educational process at those levels, it is also part of the CWSA strategic plan to support staff members and their families. At the inception of this award in 2000, only two scholarships were given, however this year a record six scholarships and eight bursaries were awarded.
Present to deliver the awards were Yvette Daniel Human Resource Manager (HRM), Joan Ryan Public Relations and Marketing Manager (PRMM), along with Union representative and staff member Tyrone Olliver, Public Relations Assistant Symantha George and Public Relations Clerk Rae-Anne Mc Dowall. The handing over ceremony was also attended by parents of the students.