Posted on
Roberts not afraid to take risks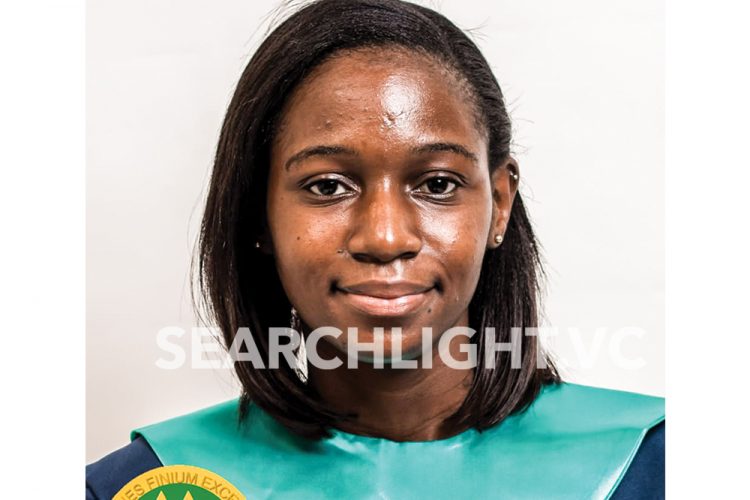 Seventeen year-old Tiyana Roberts is one of the country's top seven scholars from the Caribbean Advanced Proficiency Examinations 2021, an announcement that had the young professional jumping for joy.
Roberts is a goal setter, risk taker and a high aimer by nature.
Therefore it is no surprise that the Calder resident has been named the holder of one of the coveted national scholarships – the Pearl Best award.
The St Vincent and the Grenadines Community College (SVGCC) division of arts, sciences and general studies graduate has already launched herself into the world of work, and is in charge of various tasks at the molecular laboratory.
She was at work when she found out the good news. She recalled, "I had a very strong reaction. I was jumping up and down and was asked to share my happiness."
Roberts disclosed, "I am very proud of myself, I'm very happy to make the people who supported me and guided me to this point proud of me. I was very happy about their enthusiasm."
Her supporters on her academic journey include her mother, Lesha Benjamin, her grandmother, sister, Guider Tamira Browne, teachers and lecturers.
The journey began at the Calder Government School, from where she placed 12th overall and 5th for girls at the Caribbean Primary Exit Assessment (CPEA). She then moved on to the Girls' High School (GHS). At the end of her tenure at secondary school, she sat 14 subjects at the Caribbean Secondary Education Certificate (CSEC) and received nine one's and five two's.
While she did this she also juggled her Girl Guides' extracurricular and a goal of achieving the Chief Commissioner's award.
At CAPE she chose to tackle Biology, Chemistry, Pure Math, Green Engineering (a new subject), Caribbean studies and Communications studies.
She likes the science subjects but admits that she is not a math enthusiast but needed to do it for her science course.
Roberts appreciates green engineering because "I like learning to make things green and sustainable."
While she wanted to be a chemical engineer when she entered college, the young woman has changed her mind since then.
"In the future I want to continue pursuing biology, more specifically microbiology or immunology," she said and is considering delving into the clinical or research departments of microbiology.
At school she was always younger than her peers.
Therefore, on the topic of her fondness for risks, Roberts notes, "Being younger than everybody else you have to take risks to stand out."
When asked about advice to other students, she noted they should try to make an impression on lecturers and teachers, and stand out in any way you can. Further, to get enough sleep and take care of yourself during the exam period.