Posted on
ECCB hosts ECCU annual Bank of the Year Awards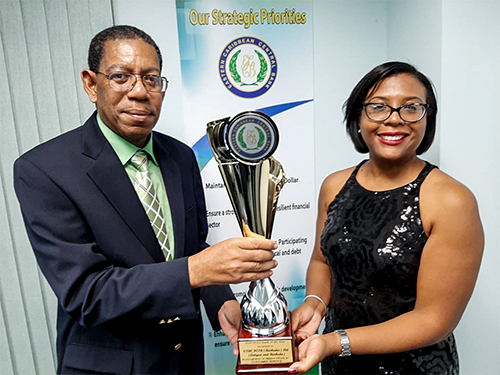 The Eastern Caribbean Central Bank (ECCB) has recognised the CIBC/First Caribbean International Bank (Barbados) Ltd in Antigua and Barbuda, Bank of Saint Lucia Limited, and the 1st National Bank of St Lucia Limited, for their exceptional banking services and demonstration of social responsibility in their communities over the past year.
The banks were awarded at the third Annual Eastern Caribbean Currency union (ECCU) Bank of the Year Awards ceremony which was held virtually on December 16, a release states.
The three institutions were among nine banks which participated in the 2021 edition of the initiative, taking home awards in four categories.
The ECCU Bank of the Year Award for Customer Service went to The CIBC/First Caribbean International Bank (Barbados) Ltd (Antigua and Barbuda), and the Bank of the Year Award for Pandemic and Banking went to 1st National Bank St Lucia Limited. The Bank of St Lucia Limited received the ECCU Bank of the Year Award for Financial Education and Empowerment; and the ECCU Bank of the Year Award for Technological Innovation was awarded to the 1st National Bank St Lucia Limited.
Governor of the ECCB, Timothy N.J. Antoine in his remarks at the awards ceremony, commended all the commercial banks and other licensed financial institutions for the services they rendered to the region in the second year of the COVID-19 pandemic.
Governor Antoine reminded the institutions that their commitment to serve the region must not waver and commended banks and financial institutions for their service to the region during the pandemic. He spoke of the exceptional role played by financial institutions in the loan repayment deferral program during the pandemic for the people of the region. The program is said to have impacted at least twenty-six thousand loans.
Meanwhile, the start of the awards ceremony saw the 13th annual Sir Arthur Lewis memorial book award being presented to the Montserrat Community College.
The ECCB instituted the book award in 2009 to honour the memory of the late Sir Arthur Lewis, Nobel Laureate and one of the pioneers of development economics. Each year the award is presented to a community college in the Eastern Caribbean Currency Union (ECCU) on a rotational basis.  The collection of books includes some of the most recent and widely sought publications in economics, politics, science, development and communication.