Posted on
DaSilva continuing to light up for Christmas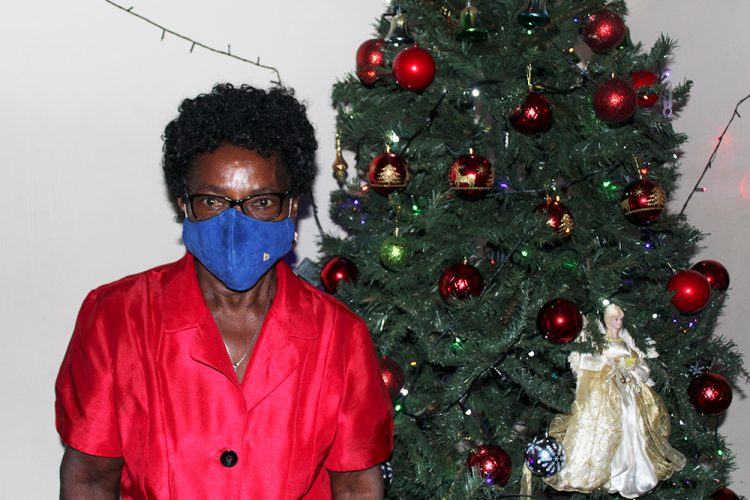 Reigning Nine Mornings Lighting up champion, Olivia DaSilva had no intentions of participating in the competition this year, but in the effort of preserving Vincentian tradition, she was convinced to create her lighted theme display for 2021. 
It will be DaSilva's 18th year participating in the competition and her lighted display has earned her first place on at least 11 of those occasions. 
Should she win this year, it will be her 7th consecutive win. 
"When I was taking down lights in January, I say God, I'm taking down these lights, I do not know if I'm going to be alive for next December but as usual, I'm guided by the Holy Spirit," the Cane End homeowner told SEARCHLIGHT. 
Her theme is "Arching through networks to be healed by Christ the Light". 
She explained that it was based on her reading of Matthew, Chapters 8 and 9. 
Included in her display are various representations of arches, shapes and colours that she said children have been quick to point out in her weave of lights. 
The homeowner also incorporated unconventional material into her display, using plastic cups to help cast light differently. 
She has also created several scenes around her home of instances in the Bible when Jesus healed persons who came to him. 
DaSilva said she is satisfied with how her display turned out and a few persons have passed by to see her lights even before they were officially turned on last Thursday, December 16. 
When SEARCHLIGHT visited this week, the Cane End resident was in her garden checking on the light connections after a heavy downpour of rain. 
She noted that high winds and rain have posed some challenge this year but she is confident in her display and hopes that it will bring her yet another championship title. 
COVID-19 protocols are in effect for visitors to the display.