Posted on
Twelve students awarded VincyCares scholarships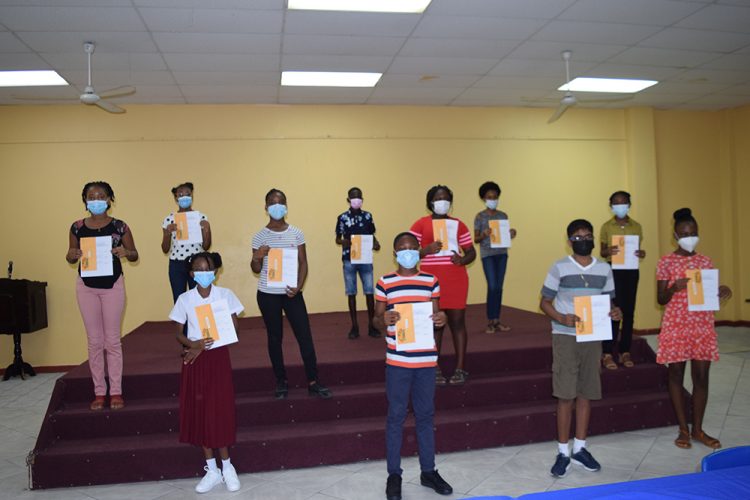 Twelve students have been added to the growing list of scholarship recipients of the VincyCares Inc. organisation.
This brings the total number since the programme commenced in 2010 to 41.
At a brief ceremony held last Wednesday at the Methodist Church Hall in Kingstown, Juarez Baptiste, Keshonna Da Breo, Lynika Haynes, Jay Laidlow, Mya Lavia, Vanessa Mason, Glennique May, Nasari Nash, Sadie Ann Robertson, Thais Sutherland, Rozzian Thomas and Matthew Williams, were presented with their scholarship documentation.
Four of these students will attend the Girls' High School; two students each will attend the St Vincent Grammar School, the Thomas Saunders Secondary School and the Bishop's College Kingstown; and one each the Canouan Secondary School, and the Sandy Bay Secondary school.
Each student was presented with EC$1,600, which will be the annual value of the scholarship for their five- year duration at secondary school.
The 12 new students add to the 21other active scholarship recipients, inclusive of two who are attending tertiary institutions here.
Franklyn Richards, a past president of VincyCares, at Wednesday's handing over ceremony, implored the recipients to "focus on the positive".
"We are here to support you but it's for you to apply yourselves…you cannot compete without an education, have a system in place to get the best opportunity… When you are successful, your life becomes better,"Richards said.
Also making remarks, Dahlia Ann Howard-Lewis, one of the founding members of VincyCares Inc. said: "My simple word of encouragement to you students is to make use of the opportunity you have been given … be focused and motivated and make a decision to do well".
VincyCares Inc. was formed in November 2009.