Posted on
Health Minister emphasises need for personal responsibility in fight against COVID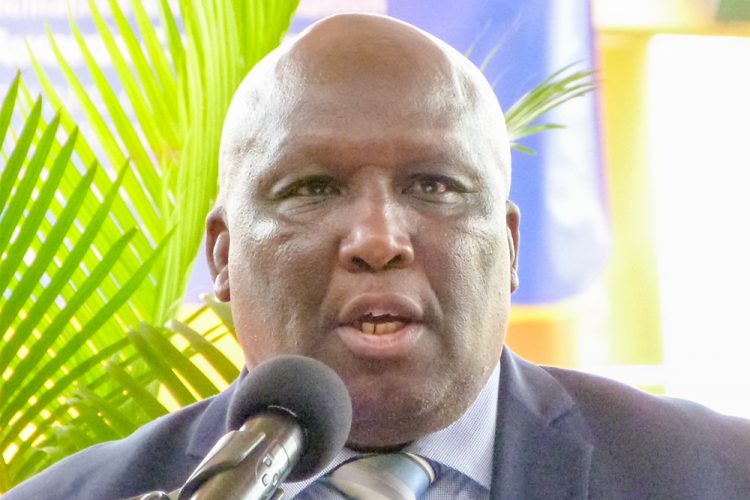 THE MINISTER OF Health St Clair Prince, last week urged the local population to use all tools available to them in their fight against the COVID-19 pandemic, especially for the sake of the children.
In his opening comments at a press conference of his Ministry last Thursday, Prince noted that he would "like to emphasise personal responsibility" adding, "I think a lot of that is lacking in our treatment of this particular disease here in St Vincent and the Grenadines."
Later during his presentation he again commented, "At no time in our history has the slogan of the Ministry of Health, Wellness and the Environment 'Health – A shared responsibility' been more relevant than now, as we face the enormous challenges posed by the COVID-19 pandemic."
He said that: "This deadly viral infection has impacted directly our health and indirectly, all of the social determinants of health, including education, literacy, income, social networks and the opportunities for healthy child development."
The minister added: "we have to focus on children at this time because you know why? It's obvious the school year is going to start soon. We have been focusing on the elderly moreso because of their inherent vulnerability, but we need to talk about the other set of people who may not become ill but who are suffering anyway because of the COVID-19 cases in this country."
The new school year is due to begin on October 4, but Medical Officer of Health Dr. Roger Duncan said that while talks are still ongoing it does not appear that schools will open as usual.
"…There wouldn't be the full student body attending school, but the final details about what modality that would take, and how that would look, we should be able to communicate" early this week, Dr.Duncan said.
Cases rapidly jumped every day last week until there were 940 active cases by Friday, September 24. The Gamma, Mu, and Delta variants have all been detected in samples sent to the Caribbean Public Health Agency(CARPHA).
The Minister rehashed the proven tools to reduce the infection to persons including: rapid Identification through testing, containment through isolation, quarantine, the correct use of masks, the sanitisation of hands, physical distancing and vaccination.
"We have all of those tools available to us in St Vincent and the Grenadines and I urge you to fully utilise them if only to ensure that our children can safely return to school. Their future depends on it, and of course the economy of St Vincent and the Grenadines also depends on it," Prince stated.
While all children12 years and older are able to vaccinate against COVID-19 with the availability of the Pfizer- BioNTech vaccination; younger children cannot yet immunise.
"They are therefore vulnerable to being affected as seen in COVID-19 surge here in St Vincent and the Grenadines, as indeed in other countries in the region," the health minister added.
"The Ministry of Health is committed to protecting our most valuable asset, our children, and their future from COVID-19, and we will endeavour to provide all of the tools required to do this," he said, including establishing flu clinics and vaccinations centres in every district.
"We however need the full involvement of every single resident and visitor to St Vincent and the Grenadines in this fight against this dangerous infection. We need everyone to consistently wear masks, sanitise, avoid gatherings, and get vaccinated," Prince noted.
"It is a battle, because we are in a war and we at the ministry are committed to it, and we ask that you join us for the sake of everyone, but especially our children."
He concluded, "I strongly urge you to take the vaccine, it is the safest and surest way to return to normalcy. As I said last week, forget about the naysayers, your safety and your health are at stake. When you are at the hospital hooked up to a ventilator and gasping for breath, those people who persuaded you not to take the vaccine will be long gone, foraging for other excuses to fuel their own sustenance in terms of misinformation and disinformation and conspiracy theories. Be responsible, be a good citizen, take the vaccine, save yourself, and save your country."