Posted on
Agent satisfied with bubble as cruise ship prepares for second call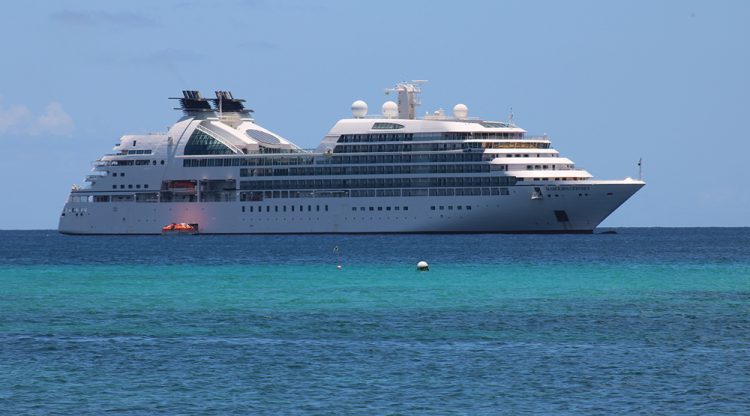 AFTER A SUCCESSFUL visit to Bequia two weekends ago, cruise vessel Seabourn Odyssey will visit Vincentian shores again this Saturday on its second of six calls intended for St Vincent and the Grenadines in the Summer season.
Seabourn Odyssey dropped anchor in Bequia on August 7, bringing with it fewer than 50 per cent of its usual capacity, to enjoy the "sand, sea and sun" that the Grenadines island has to offer.
Under the newly implemented bubble concept due to COVID19, passengers were shuttled to the beach outside, spanning the front of the Bequia Plantation Hotel.
The cruise protocols established that tourists were only allowed to stay within the bubble, and only vaccinated persons were allowed to interact with the passengers.
No one is allowed access to the beach at the Bequia Plantation Hotel when the vessel makes port in the northern Grenadine island.
"The experience was great for them (tourists). The tourists thoroughly enjoyed the time spent in Bequia and look forward to coming back on other occasions. Regarding changes due to COVID19, we did not get from them a feeling that they were restricted," Joanna Jack, senior tour co-ordinator at Coreas & Co Ltd told SEARCHLIGHT via e-mail last Thursday.
"A lot of this has to do with the managing of expectations. They have been to other ports on this voyage and a bubble concept was carried out at the other ports."
Jack also attributed the success of the August 7 visit to the collaborative effort between stakeholders and local authorities.
She disclosed that Seabourn Odyssey, which is represented by Coreas & Co Ltd, intends to make six calls in total to this country in the Summer Season and an additional 13 when the Winter Season begins in November.
The senior tour co-ordinator said provisions may be made in future calls for vaccinated crew to also come ashore and enjoy activities within the bubble.
So far, the bubble for Seabourn Odyssey includes only the Bequia Plantation Hotel.
Jack said: "we are working to see how best we can expand the activities for the guests…it's a work in progress".
She also reiterated that a lot of effort goes into making these cruise visits a success.
"In order for Cruise Tourism to continue with minimal hassle, it requires the collaborative effort of all Vincentians and we should all see ourselves as stakeholders in this industry," the Coreas tour co-ordinator said.
Information from the Ministry of Tourism indicates that St Vincent and the Grenadines will have a total of 224 cruise calls for the 2021/2022 season.
About 105 of these calls will be to port Kingstown; 59 to Bequia; 35 to Mayreau; 12 to the Tobago Cays, 11 to Union Island and two to Canouan.