Posted on
Lions Club South awards two members for outstanding work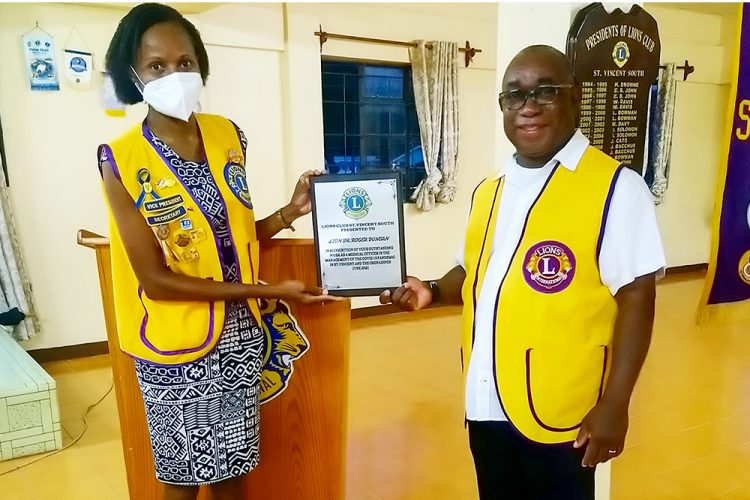 The Lions Club of St Vincent South has awarded Medical Officer of Health, Dr. Roger Duncan, for outstanding work in the management of the COVID19 pandemic in St Vincent and the Grenadines, (SVG).
The club said in a release that this was done at a ceremony on June 26, 2021, where its new Board to serve for the 2021-22 year, was installed.
Duncan, who serves on the COVID19 task force, and is a member of the club, received his award from Cornelia Moses, the president of Lions Club South.
Then on Sunday, June 27, Lion, Junior Bacchus, was accorded the status of Progressive Melvin Jones Fellow, (PMJF), for his commitment to humanitarian service particularly, his work with the ongoing disaster relief efforts associated with the eruption of the Soufriere Volcano.
Bacchus is the co-ordinator for the Lions and Leo Clubs in St. Vincent and the Grenadines, as well as liaison to the Multiple District and Lions International on disaster relief.
The fellowship is named in honour of Melvin Jones, founder of Lions International, and was conferred on Bacchus by the Lions District which encompasses clubs in the English and Dutch speaking Caribbean, stretching from the Cayman Islands to Grenada.
Lion Dionne John, MJF and LCIF Co-ordinator, presented the award to Bacchus on behalf of Lion Maureen Graham PMJF, District Governor of Multiple District 60B.
The Club has expressed congratulations to Lion Dr. Roger Duncan and Lion Junior Bacchus PMJF, for their commitment and hard work.