Posted on
Partner of missing fisherman can't eat, can't sleep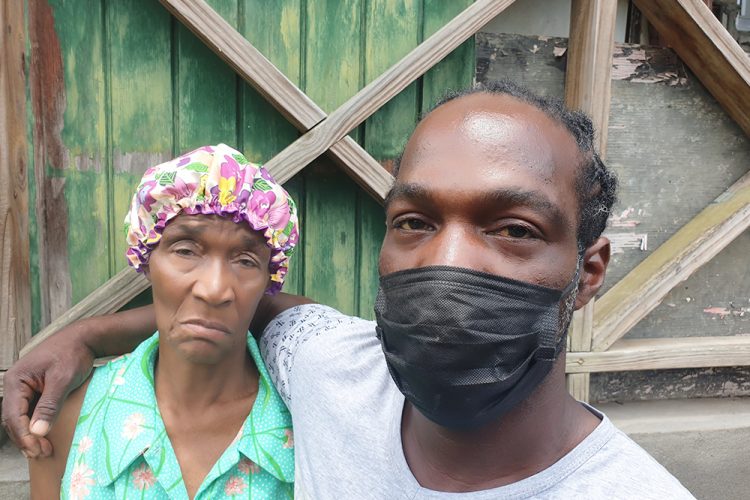 ON MONDAY, SEARCHLIGHT met Monica Thomas on the porch of her home at Ottley Hall. She was staring at the sea.
"I try to prevent him from go pon sea pon da boat dey, but he still determine to go," Monica said of her husband, Lennox "Grand Charge" Phillips, who along with Bernard "Butters" Dublin and Angus "Pharoah" Webb, have been missing at sea since Tuesday June 1.
Phillips of Ottley Hall, Dublin from Rose Place and Webb of Edinboro are fisherman, and went to ply their trade on June 1 onboard a one engine pirogue called "Odyssier". They have not been seen since.
"Well, me ain't feeling good about it," Monica further told SEARCHLIGHT while revealing that the boat her husband went fishing on was giving problems.
She said on Sunday May 30, Lennox told her they got the engine fixed and they were going to sea on Monday, May 31.
"I say 'Grand Charge', you going go out pon sea and this boat breaking down breaking down, and every time aryo have to carry it to fix?' "The last time he tell me they got a boat to come for them because they break down," Monica said while also revealing that the "last time" refers to Friday May 28.
Kenroy Thomas, Lennox's son, said his father mentioned that the owner of the boat, a man he Kenroy only knows as "Clean Steal", told the men that the boat's engine had a bad head gasket so the part was purchased and replaced by a boat mechanic.
"So they tested it the Monday (May 31) and came back, but the Tuesday, they never come back," Kenroy said.
Monica said her husband sometimes works with other boats, but he decided to sail with Bernard and Angus and she is counting the days until he returns.
Monica said she has been with Lennox since he was 24 and she 28 and she is now 69 and is not thinking that her husband will never return.
"I not about no death thing," she stressed while holding back tears.
"I counting the days all the time cause is since Monday morning early he tell me going off, he get up well early and he tell me he going in the deep.
"I say 'which side of the deep aryo going and you all does have so much trouble with this boat'. I say 'Grand Charge', leave the boat and look for some other work on land to do' because they always have trouble with this boat breaking down, breaking down," Monica said.
She added that her partner told her they were going to the waters off Georgetown.
"Up to now I can't see him. Oh God, ah can't eat, I sickly and when late in the night I can't get up, I am a diabetic with sugar, he does lift me up and carry me to the fridge to get me insulin or make something sweet when I can't walk," Monica said.
Kenroy, also a fisherman, said his father has been going to sea for as long as he can remember, and he thinks that if the boat did not overturn, the men are drifting.
"Them man say they were fishing over Georgetown which is north-east, and the tide lifting you north/northeast and carrying you over St. Lucia, Martinique, going back north," Kenroy said, noting that other fishermen saw the missing men at sea the same day they went missing.
"I feel sorry about it because is my old man and the last time I see him was Monday Night. Tuesday night I didn't even realise he did gone fishing because I does fishing too, and I was on sea when the thing happen. Is the Wednesday I going know he did not come shore Tuesday evening," Kenroy said.
He said the authorities have not yet contacted the family, and none of the occupants of the boat has called home. Kenroy is not sure that his father had his phone.
"I now come from town looking to get his bag to see if he walk with his phone, but the owner for the place, I ain't see he, so the bag lock up so I can't say," Kenroy lamented.
The family is no stranger to trials; on December 26 2017, at Rockies, Monica's daughter Keisha Thomas, 29, was found dead and face down in her bathroom.