Posted on
Traditional water sources generating new interest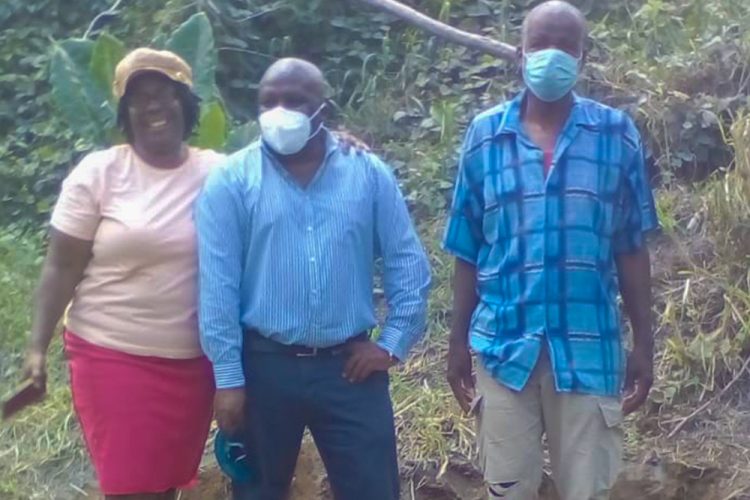 The eruption of the Soufriere volcano just over a month ago, awakened a renewed interest in traditional water sources such as springs and wells.
In fact, in the days immediately following the start of explosive eruptions on April 9, the urgency for water led many to return to a range of springs and wells across St Vincent. And now, the Central Water and Sewerage Authority-CWSA- has begun to map private water springs.
At Questelles, an abandoned well used in recent times as a garbage dump, was even more recently restored when the town thirsted for water as the soufriere belched plumes of ash.
At Shipping Bay located next to Biabou, Long lines waited to fill up containers after a spring there received a quick freshen-up that made access easier for the crowds. This scenario was replicated at traditional water sources across the mainland.
Some individuals wanting to go a bit further though, are seeking for the long-haul, to restore these once active sources of water that served communities in an era before public stand pipes and later, potable water to homes, became the norm.
At 'Tanchin'- located between Evesham and Ginger Village; and Mt Greenan, Elvis Mapp and Cheryl Johnson respectively have been mobilizing for community support to get abandoned springs in these areas going again.
Mapp told SEARCHLIGHT that in the dry season "we often get water on and off, and it's creating problems; then with the Soufriere- that is another problem, and then with the hurricane season upon us, you never know".
He and two neighbours- one each on successive days, took two days to clear the overgrowth from the tank over which persons grazed their cattle; its cover was not located, and while water still flows into the tank from the nearby spring, it is seeping underneath rather than through the outlet pipe.
A new tank will be needed, explained Mapp, who hails from Ginger Village; but there is some hope that restoration is possible, and the Parliamentary Representative for Marriaqua, St Clair "Jimmy Prine, visited to lend moral support and pledge his intervention.
Mapp said "there are a lot of people now when I talk to them, they are showing interest", in restoring this water source which in its heyday prior to the mid 1960's thereabouts, provided water for domestic use to residents of Lacroix, Ginger Village and lower Evesham.
At Mt Grennan, Johnson recalls as a child, fetching water for domestic use from a nearby spring.
"There were three springs that were in this community and that's where everybody came for water, only a few people had standpipes…" Johnson recalled.
"People going to the mountain also came with their jugs to get that cool water to carry to the mountain, when you drink it, it was so cool you think it came out of the fridge, "she told SEARCHLIGHT.
Johnson''s interest in seeking help to restore the springs at Mt Grennan was fired by the work done at the Shipping Bay spring which made it easier for crowds to obtain fresh water in the days immediately after the volcano blew its top.
"The volcano has really shown… how resourceful we can become- you see how people remember these things"? queried Johnson who thinks restoration of local springs can be wrapped around a project for which funding can be sought.
Further, she thinks that signage can be placed at these traditional sources of water which would indicate whether or not the water can be used for domestic purposes.
"Put some stones around, do a little design…they must look pretty; when people come to St Vincent it must be something they will want to visit- really develop and appreciate your springs," stressed Johnson.
Danroy Ballantyne, who heads the Water Resources Department at the Central Water and Sewerage Authority (CWSA), acknowledges that since the explosive eruption of the volcano there has been renewed interest in springs.
"We've come to the realization that there are so many springs; we didn't realise that there were so many private springs in the country until this crisis; a lot of people are calling to ask for assistance," Ballantyne told SEARCHLIGHT.
A national water management resource study conducted in 2008 ensured that the CWSA has a pretty good knowledge where the public springs are located. Ballantyne said there are about 12 springs and wells now highighted on the Authority's hydrological map.
Springs that are found on private lands but used extensively by the public, such as one at Richland Park, fall within the category of public springs.
But, a number of residents have come forward with information about other springs situated at Layou and Vermont, for instance; and a well at Dumbarton.
"We are In the process of developing a spring map of St Vincent with some assistance from Mona [UWI campus in Jamaica] so all of this information will be vital to us… once we know the location we can check the quality, the quantity, we can do periodical checks to ensure that the environment is kept in good condition," the CWSA official said, noting as well that the authority "follows the WHO standards regarding drinking water".
The CWSA itself harvests water from a few springs, such as one at Greiggs and Ballantyne sees private springs as being "very important for local use".
Last Tuesday May 18, the CWSA began a new round of mapping exercises to capture the location of private springs and have this information recorded on its hydrological map.
The spring at Tanchin was not previously known to the authority, neither are those at Mt Grennan, but given the mapping work now underway, it should not be long before they are formally listed and assessed by the authority.