Posted on
Venezuelan vessel brings in personnel from Cuba and relief supplies from St Lucia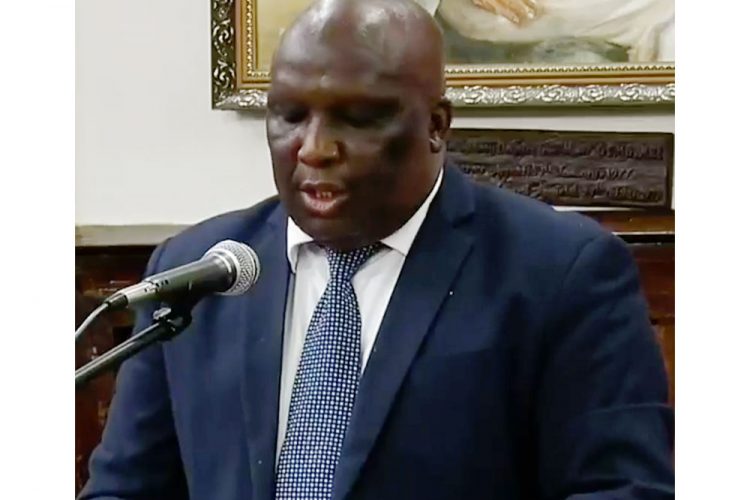 LAST WEEK, Cuba, Venezuela and St. Lucia teamed up to bring much needed supplies to St. Vincent and the Grenadines (SVG), a collaboration Minister of Health St. Clair "Jimmy" Prince described as a "triangular solidarity."
The humanitarian response came as this country continues to fight the La Soufriere volcano which began erupting explosively on April 9.
The collaboration saw the Bolivarian Republic of Venezuela use their naval vessel, AB Goajira (T-63), to transport six doctors, supplies and equipment from Cuba then stopping in St. Lucia to pick up more supplies before putting in to Port Kingstown.
SEARCHLIGHT was at the wharf when the ship arrived and spoke to minister Prince who noted that the Venezuelan government has left the AB Goajira here for SVG to use as it sees fit.
"The Venezuelans are the couriers," he said while noting that they brought supplies from Cuba including water tanks and medicine, as well as six Cuban doctors.
The doctors are of different specialization, and include a pediatrician, a gynecologist and a burn trauma doctor.
Prince said the doctors are welcomed as St Vincent and the Grenadines currently has two problems, COVID-19 and a volcanic eruption that can create health issues.
"They have sent doctors, medicine and equipment so we thank the Cubans, St. Lucia and Venezuelan and you know, we have been trying to get supplies and equipment and they have responded," Prince stressed.
Also on the dock was Minister of National Mobilization Frederick Stephenson. He said solidarity of this kind is critical at this point.
"The Venezuelan vessel will be here for some time doing work we need them to do for us as the volcano continues to erupt. Despite challenges here, we will ensure their stay is good," Stephenson said.
Head of the Venezuelan Diplomatic Mission in SVG Francisco Perez Santana said his country is glad to help SVG and they have brought much needed items and personnel to the country.
Earlier this month, Venezuela donated 20 tonnes of humanitarian aid, including 17,000 litres of water, beds and health kits. Two SUV vehicles were also brought to aid in the relief efforts.