Posted on
Questelles man, said to be mentally unstable, missing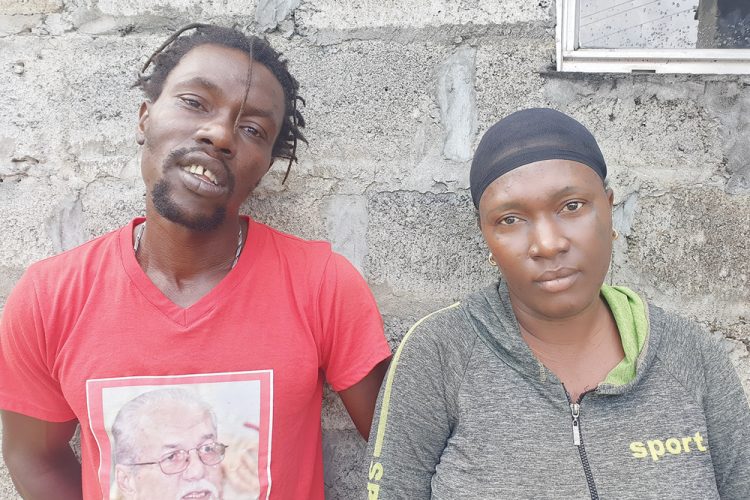 A QUESTELLES FAMILY is asking for the help of the public in locating a mentally challenged relative who has been missing since the second week in February 2021.
Missing is 37-year-old Recardo Cornelius Samuel also known as General.
The missing man's mother, Arlene Samuel, brother Stephen "Moon" Samuel, and sister Nichola Samuel say they all fear the worse over Recardo's disappearance.
Arlene told SEARCHLIGHT on Thursday that around the second week in last month, a police officer from the Questelles Police Station responded to a report of a fire at the old Questelles Police Station, allegedly started by Recardo.
She said the police put out the fire which was set next to a cooking gas bottle, but the officer did not catch Recardo who was known to police and known to become violent when he is off his medication.
Arlene said in January, she took Recardo to the Mental Health Centre (MHC) at Glen, but he walked away from the facility eight days after he was admitted there.
"I saw him the morning he walked out, and from that he was all around doing a lot of things and troubling people things, not really stealing, but he went in the police station with a gas bottle and light fire.
"From that day, he used to be around the yard still, even after he do that but now, we don't see him and we ain't hearing nobody saying anything," Arlene said while fighting tears.
"I don't know if he dead from starvation where he is or somebody kill him. Me feel funny. I hear people saying he dey Chateau (Chateaubelair), he dey Bagga (Barrouallie), all kinda thing I hear people saying," Arlene lamented.
She said Recardo would at times sleep under a small fishing boat at Roucher Bay, Campden Park and someone told her the boat is missing.
"They don't know if he took it out (to sea). He use to sleep under it," she pointed out.
Nichola, the missing man's sister said she has called the MHC and has also checked at Her Majesty's Prisons (HMP) and he is not in any of those places.
"This is not like him, he always come in the yard. Something do him, we feel so," she said.
The missing man's brother Stephen, added, "I don't know, from the last time the police go round there and say they find a bottle and is he had it, me nah see him.
"He don't go bush, so me nah know if he go ah bush or wah or if he dead, boy me nah know," Stephen commented.
He said if his brother was around, he would come to the house because this is not the first time that he has gotten in trouble with the police.
"…is not the first time, police ah buss bullet behind um and thing, and them ah go for um…me nah know wah fo say…," Stephen added while claiming that his brother has been shot at and beaten by police on several occasions as he is violent when "tripping".
"He does get licks and come bout still, but da time ya, e too long now. E too long, trust me," Stephen said while his mother began crying.
Recardo is well known to the police as his mental issue has led him to have several run-ins with the law.
A veteran police officer described Recardo as a "fire starter" and noted that he tried to blow up the old Questelles Police Station with a cooking gas bottle last month.
A few years ago, policemen responding to a disturbance created by Recardo, were douched with gasoline but escaped being set on fire by the mentally challenged man.
In October 2015, a section of the Unity Labour Party's (ULP) South Leeward constituency office was destroyed by fire, and Recardo was the main suspect but was never prosecuted because of his mental state.
Recardo's disappearance and dangerous activities in the community have once again brought to the fore, the issue of mental health and the inadequate system set up to deal with persons with these problems.
Coincidentally, Sergeant 209 Philbert Chambers, the police officer who died in the line of duty on Sunday April 26 in Campden Park, allegedly shot by, Gleason Lewis, a man said to be mentally unstable, is said to have had several run-ins with Recardo.
[Changed at 10:16 am on March 27 to reflect that the featured photo of the article is NOT Recardo Samuel but his brother Stephen "Moon" Samuel.]