Posted on
Elderly woman wants financial institution to hand over $56,000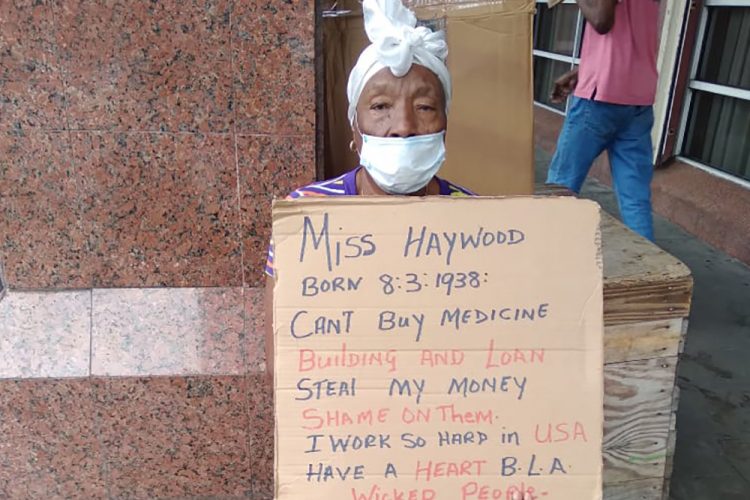 Margaret Haywood, 83, is calling on the St. Vincent Building and Loan Association (SVBLA) to hand over EC$56,000, money listed in the company's books as her permanent shares.  
In 2013, the SVBLA faced financial challenges resulting in the Financial Services Authority (FSA) stepping in to put measures in place to ensure the entity's survival. 
The advisory from the FSA and the World Bank for the way forward was the implementation of a Recapitalization Plan.  
 As part of the plan, all depositors, without exception, had access to and received a minimum of 90% of all their investments at the SVBLA, in addition to interest at rates of 3.0% to 3.5%.  
 Haywood told SEARCHLIGHT on Thursday that she received 90% of her money, leaving the SVBLA owing her EC$56,000.  
 Haywood who picketed the SVBLA office on White Chapel Road on Tuesday, Wednesday and Thursday and plans to do it again today once her health allows, said she needs her money to buy medication as she is elderly and sickly.   
 "They took my money without my consent. I did not tell them to take my money and sell me permanent shares," Haywood said during a telephone interview on Thursday.  
 In a release issued on Wednesday, the SVBLA said the company is aware of the articles in the newspapers and the discussions on radio regarding Haywood and her request for a refund of her permanent shares.   
"Ms. Haywood, like every other depositor, received the minimum 90% of her investment which was due, in addition to interest at rates of 3% to 3.5%.  
 "The Association retained a maximum of 10% of the total of each depositor's savings, which were placed as permanent shares. While these shares are presently not redeemable, members can sell their shares to individuals," the SVBLA explained in their release.  
Giving an example, the release noted that if a member had $550,000.00 in deposits, they would have received 90% including interest at rates of 3.0% to 3.5% which would have amounted to a total of $533,897.51.  
 The release said that members had the option to withdraw their deposits or, redeposit these funds with the SVBLA, and many of them did.  
 "The membership of the SVBLA voted unanimously to adopt the Recapitalization Plan recommended by the Regulators at the August 29, 2013, Annual General Meeting, a necessary strategy to protect the depositors' investments and the longevity of the Association," the release said.  
 But Haywood, a Campden Park resident wants nothing to do with the Recapitalization Plan or the permanent shares and wants her money.  
"The issue is that I was in the United States of America for 35 years and sent money every month to my sister in Chateaubelair and she would take it to Building and Loan. 
"I retired and came back in 2013 and I found out they had some problems where something went wrong I read in the paper…  
"I went to look for money and I found out the fixed deposit was put into permanent shares," Haywood said. 
"I did not agree to that and I keep asking them within this eight years for my money because I have problems, medical problems with feet. 
"…and I have pressure and I have to do other things, personal things for my life," the elderly woman noted.  
She said the situation is "stressing" and she feels "real sad" because she saved money for her retirement.  
"I didn't want to have to go begging around asking people to help me out, and I made that preparation and it makes me feel sad," Haywood noted, adding that during her picket, people offered her money but she did not accept it.
 
"I am not asking for that. My objection is that I just want them to give me my money. I work hard in America as a caregiver," she said while noting that the 90% of the money she received a few years ago is not enough for her to live on as her medication is expensive.   
She said she pays $135 a bottle for a month's supply of blood clot medication for her foot, and sometimes gets other medication free from the clinic she visits.   
"I need it (money) because I work hard. The USA is not like SVG. It's a cold country and whether it's snowing or not snowing… people don't give you things. I worked hard," she stressed.  
She added that she has five children who assist her but they have their own homes and family, and some of them are not working because of the COVID-19 pandemic.  
In relation to the 90% of her money she received a few years ago, she commented, "this is 2021 so they can't expect I have that money…".  
She said she was told she can get the EC$56,000 if someone buys her shares and a woman offered to buy some of her shares.   
"She said she was going to talk to them and she called me back and told me she spoke to someone and was told that they give me back some of the money so I should have enough money to buy medication," Haywood complained.  
The March 24 press release was headed, "members' decision being maintained for the benefit of all."