Posted on
Proposed SR&O on minivan loads not discriminatory – PM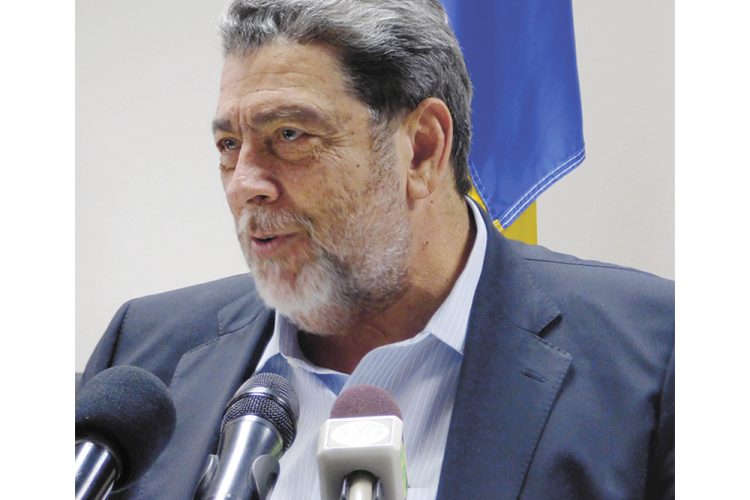 Prime Minister Dr Ralph Gonsalves does not believe that a Statutory Rule and Order (SR&O), mandating minibus operators to be vaccinated if they wish to carry more than half the passengers for which they are licensed is discriminatory.
In fact, Gonsalves said that a document outlining such would fall well within the provisions of this country's
constitution.
The Prime Minister said on Sunday that it was likelyan SR&O outlining the terms on which van drivers could carry more passengers would be issued this week. However, his statements on the matter during the National Heroes Day ceremony were met with much opposition by members of the public.
Up to press time, no such SR&O has been published.
"Nobody is discriminating against you. We are doing something that is reasonably required for a public purpose, to wit, public health and that what we are asking is reasonably justifiable in a democratic society, which are in accord with the provisions of the constitution," Gonsalves said on Star FM on Monday morning, one day after his initial announcement.
 "The lawyers in the Attorney General chambers are quite clear that it easily passes constitutional muster but I'm concerned about how it is going to be enforced, whether this is going to add additional things to the police…"
Under the current Covid19 health requiremnts omnibus operators are allowed to transport no more than 50 per cent of the passengers they are licensed to carry.
However, Gonsalves revealed that the Vincentian Transportation Association (VINTAS) has written to Montgomery Daniel, the Minister of Transport, saying that the minimum number of passengers acceptable for operators to carry for a 14-seater is 10 passengers; for an 18-seater, 12 passengers; 25 and 26 seaters, 18 passengers and for a 29-seater, 21 passengers.
"It's almost at full capacity…so, we're going to incentivise you. We're gonna go there, but we're gonna incentivise you …by saying that where the driver and conductor of a public service vehicle have been vaccinated against the coronavirus disease 2019, the driver shall not carry more than 10 passengers for a 14-seater, more than 12 passengers for an 18-seater, more than 18 passengers for a 25- or 26-seater or more than 21 for a 29-seater," as he offered an explanation for the proposed SR&O.
He referred to the draft document which was sent to him last Friday, March 12 by the Attorney General's Chambers, which outlined how the order would be enforced.
Gonsalves said a driver or conductor referred to shall on being so required by a police officer in uniform, produce his vaccination card for examination.
" We're not making it mandatory, we're not telling the bus driver and conductor that they have to take it, but if you want to take more, this is a licensing condition," he said.