Posted on
Over 5800 Vincentians have been vaccinated against COVID-19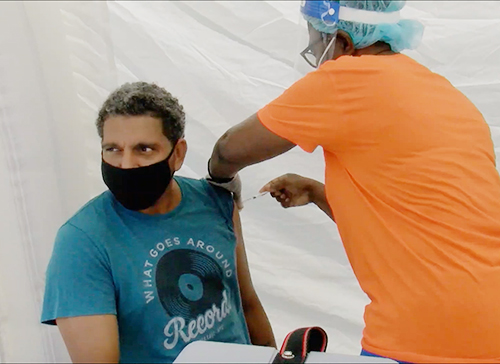 More than 5,800 Vincentians have so far been vaccinated against COVID-19.
This number is expected to increase this week as the ministry of health continues its full-scale rollout of the vaccination programme across the country.
The drive to vaccinate over 50,000 Vincentians against the virus over the next six weeks began last Wednesday at the Victoria Park and continued over the weekend in Georgetown, Chateaubelair, Bequia, Pembroke and Calliaqua.
Many Vincentians have been hesitant about taking the vaccine, but Jimmy Prince, the minister of health said on Sunday that he was happy with the turnout he was seeing over the weekend of people wanting to be vaccinated.
"People are getting the message it seems and they are coming out and I'm very pleased with the numbers we are having here today," the health minister said on Sunday during a Live broadcast at the Calliaqua Playing Field where tents were set up to vaccinate people in the area.
Prince disclosed that over 200 persons were vaccinated on Saturday in Georgetown. He said when the drive returns to Georgetown sometime soon, they expect to bring out even more persons from the inner villages like Langley Park and Chapmans.
The health minister said he expects that more than 6000 Vincentians would be vaccinated by the end of the week.
This country's finance minister, Camillo Gonsalves and his wife, Karen Gonsalves were among the persons vaccinated in Calliaqua on Sunday.
Gonsalves, who is the parliamentary representative for East St George, also said he was happy with the turnout at the Calliaqua Playing field last weekend.
"Things are not going to get back to normal in St Vincent and the Grenadines until we reach a level where most of the population have been vaccinated," the finance minister said.
He said everyone has a role to play in kick starting the country's economy once again "So, we're not just doing it for ourselves, we're not just doing it for our family, but we're doing it for our country".
Gonsalves expressed his trust in the science of the vaccine, noting that the ones that have been developed will help to keep persons out of the hospital and from having severe complications, if they were to contract COVID-19.
A chart posted to the finance minister's Facebook page outlined vaccinations by health districts.
As at Sunday, the majority of vaccinations have taken place in Kingstown – almost 24 per cent. This is followed closely by the Calliaqua Health District and then the Northern Grenadines and Pembroke Health District with 19.89 per cent, 13.22 per cent and 12.86 per cent respectively.
These figures do not include the persons who were vaccinated over the weekend.
The vaccination drive continues this week at all health centres in SVG and at the Victoria Park in Kingstown from 9 am to 3 pm.