Posted on
'Vaccine Nationalism' will only serve to prolong the Covid-19 pandemic – PM Gonsalves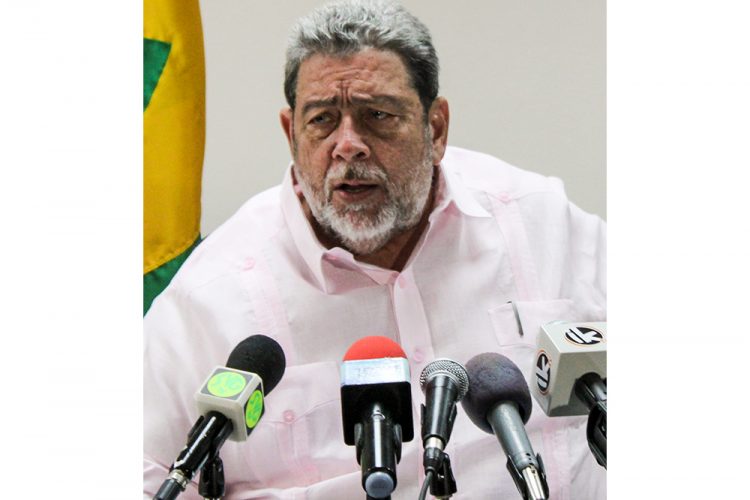 The disturbing trend of "vaccine nationalism" in which wealthy countries hoard Covid-19 medical supplies such as vaccines, will only serve to prolong the pandemic.
Prime Minister Dr Ralph Gonsavles drove home this point in his address to the United Nations Security Council (UNSC) on Wednesday, February 17, titled "Ensuring Equitable Access for COVID-19 Vaccines in Contexts Affected by Conflict and Instability."
"The simple truth is that unless vaccines are made available, affordable, and accessible to all, many vulnerable countries and peoples, including those affected by conflict, would suffer, unbearably, as the pandemic continues to destroy lives and livelihoods," the Prime Minister stated.
Therefore, greater international cooperation between countries, international financial institutions (IFIs) and major pharmaceutical companies is required; he said. Further, the United Nations and World Health Organization(WHO) must remain central in ensuring all who need the vaccine receive it.
Following this, the Prime Minister noted "we would welcome an enforceable international rules-based compact to deliver vaccines to all who need it."
He also reiterated the Caribbean Community's call for a global summit in the context of the World Health Organization's Access to COVID-19 Tools Accelerator (ACT-A) Facilitation Council "to discuss equitable access and global distribution of vaccines."
He added that those in CARICOM "are resolved to share with each other, on the basis of need, whatever quantities of vaccines we receive or procure."
In discussing the solidarity needed to overcome Covid-19, the Prime Minister spoke of "Vaccine nationalism".
"Some wealthy countries hoard critical medical supplies, including vaccines. Such conduct only prolongs the pandemic," he said. Many will suffer needlessly, "if vaccine delivery is determined by a narrow market calculus rather than the social imperative of building immunity everywhere," he also cautioned.
He urged vaccine manufacturers to work together with developing countries "to expand production capabilities, hence alleviating the strain on global supply chains."
Further, he encouraged greater financial support to the COVAX facility.
The COVAX facility, a new facility developed in the context of the pandemic, is part of a full package called the Access to Covid-19 tools (ACT) Accelerator. It was created to accelerate the development and manufacture of COVID-19 vaccines, diagnostics and treatments, and guarantee rapid, fair and equitable access to vaccines for all.
It is in the hands of the Vaccine Alliance (GAVI), the World Health Organization (WHO), and the Coalition for Epidemic Preparedness (CEPI).
St Vincent and the Grenadines(SVG) is expected to receive free vaccines for 20 per cent of its population from this facility, as it is part of a group benefiting from the COVAX Advance Market Commitment (AMC).
The Prime Minister also noted that the Security Council will need to continue working in unison with other organs of the United Nations to address the various dimensions of the pandemic.
The SVG delegation remains supportive of a global ceasefire.
Importantly, a ceasefire would "ensure that vaccines can be distributed safely to those made most vulnerable by conflict, including internally displaced persons and refugees."
The Prime Minister proposed "Where mandates and capabilities allow, Peacekeeping Operations could be utilised to assist with the transportation and distribution of vaccines, including providing protection to those designated personnel who administer vaccines."
In closing, Gonsalves reminded that it approaches one year since a global pandemic was declared.
"Equitable access to COVID-19 vaccines must form part of any serious effort to recover, sustainably, from this pandemic.
Let us be reminded of our common promise to humanity, under the 2030 Agenda for Sustainable Development, of leaving no one behind."
He reiterated the oft repeated mantra, "No one will be safe until everyone is safe", in reference to the need for collective immunity.