Posted on
14-day hotel quarantine protocol will remain in place for arrivals from high risk countries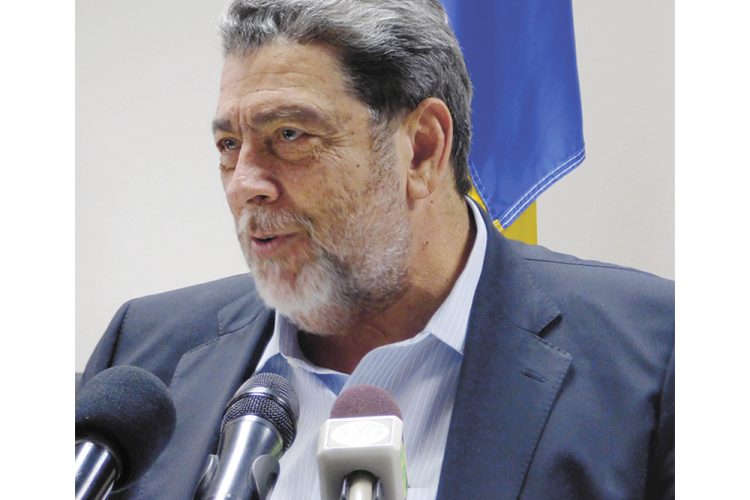 Prime Minister Dr Ralph Gonsalves sees no "reasonable merit" in the argument that returning nationals with negative PCR tests should be able to complete the mandated 14-day quarantine period in the comfort of their own homes.
And until he is advised otherwise by public health officials, those regulations will remain in place.
Under the current entry protocols, all travellers coming to St Vincent and the Grenadines, nationals and non-nationals alike, must quarantine for a period of 14 days in a Ministry of Health/Tourism approved facility, at their own cost.
In recent times, several persons have argued that it is unfair for returning nationals with negative PCR tests to pay the high cost of hotel fees, when they have the adequate facilities to safely quarantine in their own homes, while positive COVID-19 cases are allowed to isolate at home, potentially putting other family members at risk of also contracting the virus.
"What all that is about, I'm telling you, are persons who want for other agendas, other reasons, to be carrying out these arguments. I don't think the argument has any reasonable merit…" Gonsalves said during a virtual press conference yesterday afternoon, while responding to a question posed by SEARCHLIGHT.
The prime minister noted that every country in the world had imposed restrictions on persons coming into the country, and while some countries in the region started off by footing the bill for quarantine, they have since had to move away from that original arrangement.
He also mentioned the existing COVID-19 variants, including the UK variant which is present in neighbouring countries of Barbados and St Lucia. And he said that while a traveller may arrive with a negative PCR, the possibility still exists for them to contract the virus during travel.
"And what the health authorities have advised; they will want to make sure that that particular, those variants which are very difficult, very challenging, that we keep them out as far as is practicable and that it is easier to contain what you have internally than what you bring in from outside from an epidemiological standpoint." Gonsalves said.
When Camille Trent contacted SEARCHLIGHT on Wednesday, it was in an effort to seek help for a 57-year-old resident of SVG who had returned to the country on February 5.
According to Trent, the quarantined individual, who came in with a negative PCR test, had adequate facilities at home to quarantine by herself.
However, because of the mandated 14-day quarantine period, the resident now has to incur a EC$1400 bill at a specific approved facility – a charge that is out of reach for the 57-year-old resident.
She also told SEARCHLIGHT that the individual is diabetic and at the time, needed to access certain medications.
"The tables have turned on the COVID situation in St Vincent, so you can no longer maintain your same guidelines. You have to have different guidelines now because the people who are positive and are in their homes, they are also in their homes with other family members," Trent said.
The concerned woman said she felt it unfair that persons with negative tests and empty homes should have to incur such high fees, particularly in cases when they truly cannot afford it.
This argument was also made recently by political activist and registered nurse, Luzette King.
King, a Vincentian by descent, was charged this week with breaching immigration and customs regulations at the Argyle International Airport on January 30, when she arrived on an American Airlines flight from Miami and ran out of the airport and got as far as the parking lot.
The registered nurse did not have a confirmed booking at a COVID-19 approved facility to spend her mandated 14-day quarantine period and was sent back to the US.
In a video recorded just after the incident, King said she did not have US$1000 to pay for the hotel stay.
And when she returned a week later to SVG, it is alleged that she told health officials that she did not have a negative PCR test or a booking at an approved hotel.
The political activist has since been granted bail set at EC$2000 for the charge laid against her.
According to reports from a local media entity, King's lawyer, Kay Bacchus-Baptiste, during the virtual bail hearing, asked that medical officer of health, Dr Roger Duncan explain to the court why some persons who test positive for COVID-19 are sent home while returning nationals with negative test results must quarantine at hotels.
"What that policy have to do with an inquiry in a court? If you want to go to the High Court to see whether a restriction of that nature is reasonably required for the purpose of protecting the health of the country and that it is reasonably justifiable in a democratic society, well go to the High Court with a constitutional motion," Gonsalves said during yesterday's press conference.
The prime minister added that he "would like to see if there is a judge of reasonable temper who would say that those restrictions are not reasonably required for the protection of health and that they are not reasonably justifiable in a democratic society".