Posted on
Former national athlete bonded for assaulting niece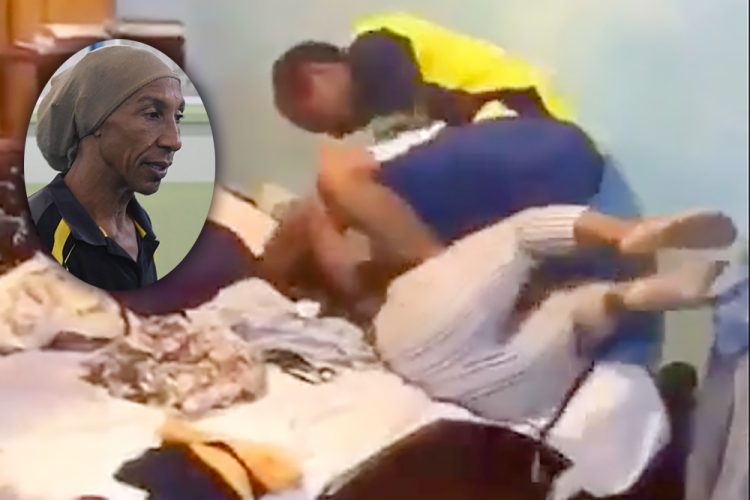 A former national table tennis player who was filmed as he pinned down and beat his niece, in a video shared across social media, has been bonded by the court for one year.
Robert 'Bob' Ballantyne, 60 years old, a well known athlete in sports circles, made headlines as recently as July, 2019, for winning the title in the men's singles of the national Table Tennis Championships.
But today, the headlines are not positive. His reputation, marred by a 30-second clip of him engaging in domestic violence, has taken another lasting blow in the form of a criminal record.
Ballantyne admitted his guilt before the Kingstown Magistrate's Court (KMC), on Monday, February 8, for, at Frenches on December 14, 2020, assaulting Iman Ballantyne, 18 causing her actual bodily harm.
The court heard the basic facts of the incident, as it was investigated. It is said that on the night in question, Iman was at home in her bedroom, trying on outfits, when her uncle, the defendant, entered the room. She was confronted about a key that belonged to his son, her cousin, who lives in that family house with her. Iman denied possession of the key.
At this, her uncle pushed her onto her bed, and began to wrestle with her. He slapped her in the face, and hit her about the body with his hands, before leaving the room.
A short video of the incident circulated, appeared to show Robert holding Iman down by holding her face, while he is speaking to her. The young woman in the video then wrestles with him until his hand isn't over her face anymore, and asks him to get off of her. She looks up and sees the person who is filming, before a reverberating slap is delivered by the man who stands on the bed over her. As she reels from the slap, he positions himself again, saying "Let me tell you something, you is a little child to me", slapping her again as he says the word child. "You have some respect for me girl" the man in the video says, as he continues to hold her down. "Let me tell you something" he says, as she tells him "I am bleeding". "I don't care if you're bleeding" he shouts at her, before saying something unintelligible.
"You don't own here" he says as he slaps her with less force, and again as he says "here is ours". As she tries to raise her feet he slaps her again, telling her "not yours own", while still pinning her down. "Stop" she tells him at that time.
This video was not shown in court.
The matter was reported to the police, and Iman was given medical forms to visit the doctor. The investigations culminated in Robert's arrest on February 6. Counsel for the defence, Israel Bruce mitigated for his client on Monday, before Senior Magistrate Rickie Burnett.
The lawyer said that the case is one of a family difference that went south. The issue surrounded a missing key, which the defendant's son had just left in a door, to go across to his father's, and when he came back the key was gone. The defendant sought to find out the location of the missing key that his son used.
It was in doing so that Robert lost control of his temper and emotion, the lawyer said, and engaged his niece by striking her.
"Mr Ballantyne like many of us, only on the subsiding of these transactions do we get to look back and realise what foolishness I did," Bruce told the judicial officer.
Further, "He too has expressed that he recognised that he ought to have controlled himself more than he did", and not struck his niece.
The counsel said that prior to the court appearance, Robert had tried to contact his niece several times to apologize but the attempts were not successful.
Robert is the brother of Iman's deceased mother, a plumber and father to six children.
Bruce pointed out that for 60 long years, his client had not run afoul of the law, showing that he does not have a propensity for such offences.
"It is unfortunate that he lost control of himself and his emotions and involved and engaged his own niece in the manner that he did," the attorney stated.
His client had a long-standing career in table tennis wherein he began representing the country at age 14.
'Bob' admits that he has done something "stupid", Bruce also noted.
Reading the medical form filled out by the doctor, the counsel observed, "The point is, and I'm not trivialising it your honour, I never do this at all, the fact is that there was no significant injuries to Miss Ballantyne based on the medical injury form."
Bruce commented that he is aware that the transaction "went viral", thereby embarrassing his client worldwide for his "silly behaviour", as well as, he presumed, his niece.
He said that the circulation had "grossly embarrassed" his client, as a sports personality, not only locally, but regionally and internationally, which is "significant punishment".
He asked that the court have mercy on the defendant.
The magistrate allowed Iman, who was present in court, to weigh in on the discussion as well. The young woman said she had removed the key because "he" was doing "things" in the house that he wasn't allowed to do in that room which the key accessed.
When asked how she felt about the matter, the young woman said that she didn't like what happened, and that it isn't the first time that the defendant did something like that to her.
"…Well I couldn't even help myself in that situation, I couldn't protect myself," she explained, and yelled at him several times to stop.
She said that her uncle allowed his son to record it, and she doesn't know how to feel.
"I would not have expected my cousin to do that to me. I expected my uncle to because it's what he does…" she explained.
Her nose was bleeding and she had to go to the hospital.
While she said she did want compensation, the young woman did not know how much compensation she wanted, and was given a moment to ponder this.
On returning, however, she informed the magistrate that she had filed a civil action against her uncle.
Against this background, the magistrate did not order compensation.
"In the judgment of this court, I am of the view that placing him on a bond will be justice in this matter," he also decided. A bond of one year in the sum of $1000 was imposed on Robert. If the 60-year-old should breach the terms of the bond he must pay this sum forthwith or go to prison for three months.