Posted on
VC3, NBC 705, Government Printery and API to merge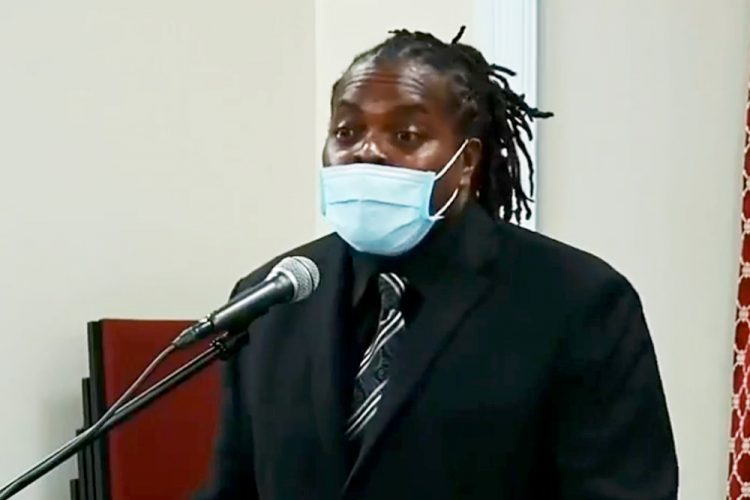 The government will reallocate and reorganize into a single merged entity, the posts and responsibilities of its public information mechanism, which it considers has been underused and has left the public underserved.
The rationale behind the move and details of the proposed new entity were presented in Parliament on Wednesday by Senator Rochard "Pitbull" Ballah as he made his maiden address during the debate on the 2021 Budget.
"Ironically, the government expenditure, range of media and personnel, would make these entities the largest gathering and disseminating entity relative to the existing private local media outlets in this country.
"However, it has, collectively, had several challenges in reaching Vincentians with timely and comprehensive public information," Ballah, a first term senator told Parliament.
In November 2020, Ballah was appointed Minister of State in the Prime Minister's office and given responsibility for revamping the government's information service; VC3, Agency for Public Information (API), the Government Printery and NBC radio.
The senator added that over the years, there has been much inefficiency in the coordination of these entities as there is a disjointed approach to information dissemination, and this in itself, has compromised the effectiveness of public contact and communication.
"Important public information has not benefitted from the full strength of the available media construct. I must add Madam Speaker, that some of these media munitions are wasted and unused," Ballah noted.
He said for example, while FLOW offers individual cable channels for VC3, the ministry of tourism and API, only VC3 currently has daily programming.
"Madam Speaker, even within the ministries that offer some semblance of a communication unit or department, there seems to be an atrophy of resources, both human and financial.
"In some instances, one can identify areas of redundancy within these constructs and this had led to a certain level of complacency and a ponderous approach to disseminating information in a timely fashion," the communications expert noted.
He said that from his observations, there seems to be an overlapping of responsibilities within the entities and this has presented a hindrance to personnel, to deliver much needed attention to the timely publication of activities on a ministerial level.
He noted that as a newly appointed senator, he has listened to the lamentations of the public where accessing information on a wide range of matters is concerned.
"The general consensus is that people hardly know what's going on on a Ministerial level and by extension, in the country.
"It is not to say that there is absolutely nothing being circulated from these entities.
"However, because of the varying modes of consumption of media in the country, there appears to be a lapse in the accessibility of this information," Ballah told parliament while adding that at times, there is a channel overload where independent entities are simultaneously disseminating different and sometimes conflicting information at different times.
He said in an effort to solve the problems, the minister of information will supervise the reallocation and reorganization of posts and responsibilities.
"Madam Speaker, the reorganization of the staff of a merged entity contemplates positions dedicated to a number of new focus areas. However these positions can be repurposed from existent API vacancies.
"Existing personnel at individual entities, for example news editors or reporters, can be shared across organizations.
"There is no anticipated need for increased remuneration for these posts," Ballah said while adding that the only new position would be for a CEO of this merged entity.
He said this individual would head the editorial board, serve on the board of directors and exercise general managerial authority over the TV, radio, print and Internet divisions.
Ballah said that under this new set-up, NBC Radio and API would retain their existing general manager and director respectively, to manage day-to-day activities of those entities but under the direct supervision of the CEO.
The CEO will report to the minister of information and Ballah says the amalgamated organizational structure will facilitate editorial and administrative consolidation and efficiency a few ways, among them, by creating a common editorial board to coordinate messaging, share information and avoid duplication and by consolidating sales, marketing, accounting, IT and technical staff into single units to increase efficiency.
Ballah is also hoping to broadcast API content on VC3 and expand the range of API-produced material.
"Madam Speaker, the television, radio, print and internet units, working as symbiotic entities, should be staffed in a way that optimizes the skill sets of the already appointed workers.
"For the most part, reporters and personalities can be interchangeable. The news department should produce for all entities," Ballah said.
Ballah said that API has a staff of about 33 persons, costing a total of $1.19 million in total recurrent expenditure in 2020, and a projected total recurrent expenditure for 2021 amounting to $2.16 million dollars.
It was noted that NBC radio has a full-time staff of 32 persons and receives a government subvention of $575,000. Ballah noted that the radio station amasses approximately $1.5 million in annual revenue resulting a total annual income of $2.75 million. Of this total, $1.2 million goes towards payroll expenses.
The balance goes back into utilities, equipment purchase and maintenance and other operational expenses which would occur annually.
VC3 TV is wholly-funded by the National Lotteries Authority (NLA) and has annual expenses of roughly $225,000 and employs a full time staff of seven persons.
Ballah also told parliament that in recent years, government ministries and entities have developed their own communications departments and these departments and units are home to at least 48 additional staff members.
These include the Health promotion unit in Ministry of Health as well as communication units in the Ministries of Agriculture, Foreign Affairs, Tourism, Information Technology and Education.
Other dedicated communication and information posts can be found at BRAGSA, the Office of the Prime Minister, the Tourism Authority, Argyle International Airport, Invest SVG and the Government Printery.
"As such, these Government based units and entities, including the Government Printery, amount to $3.9 million recurrent expenditure," Ballah revealed.
He said that if properly managed, the amalgamated entity will generate more content and, "more efficiently utilize the vast state recurrent expenditures on information, and, most importantly, fill the vacuum created by the lack of accurate, timely, attractive and trustworthy public information."