Posted on
Volcanic rock collected for analysis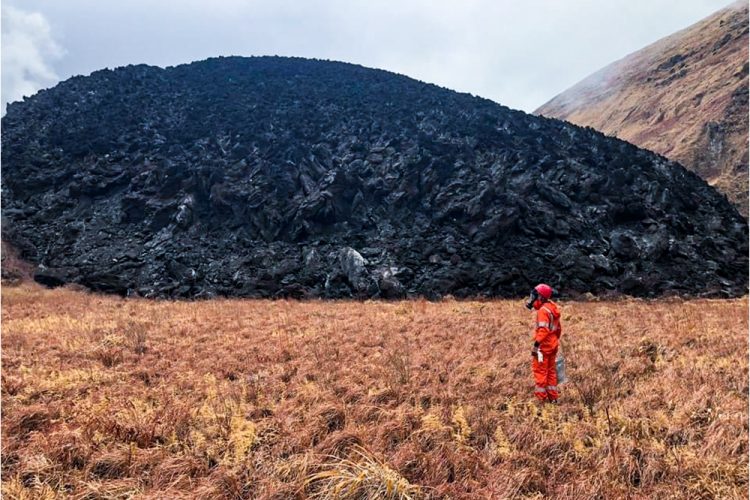 ROCK SAMPLES FROM the growing dome at La Soufriere were collected this weekend, and they will be analysed to better understand how the current eruption will unfold.
The University of the West Indies- Seismic Research Centre (UWISRC) and the National Emergency Management Organization(NEMO) conducted the operation under strict volcano safety protocols, using heat suits and gas masks, while a helicopter was on standby.
Additionally, the situation was closely monitored by seismic stations at the UWI-SRC and Montserrat Volcano Observatory headquarters in order to detect any changes in activity.
Geologist Professor Richard Robertson collected the samples from the new dome, and he spoke with NBC radio's 'Face to Face' program yesterday, January 18.
He noted that they have begun to look at the rocks under a hand lens, and have begun to cut fragments to send overseas for analysis.
"Initial look at the rock suggests that there's certain characteristics of it that indicate that its chemistry is probably similar to 1979," the scientist revealed, but debunked the theory that it is "left over" from the 1979 eruption.
"From what we're seeing it looks like it's a bit more than that which has implications for what may happen," he stated, but that it was early days still.
The professor explained that it would be another piece in the ongoing puzzle.
As they receive more information, they will convey this to the authorities.
Robertson advised persons to listen out.
"There is not one element of this that will give you the answer that everybody wants to find out. In monitoring you have to
collect various data sets, and try to see how they integrate," and consequently come up with as accurate a model as possible. Pictures of the samples, and the process were uploaded to the UWI-SRC Facebook page, with a caption by Dr Thomas Christopher contemplating that the rock may be basaltic andesite lava, based on the eruptive history of our volcano.
"Analysis of the bulk rock and crystal compositions will give scientists clues to changes that have happened since 1979 and will also provide insight into current magmatic processes to complement the data that scientists are receiving from other monitoring techniques," he said.