Posted on
US VP-Elect Kamala Harris thanks Caribbean American Voters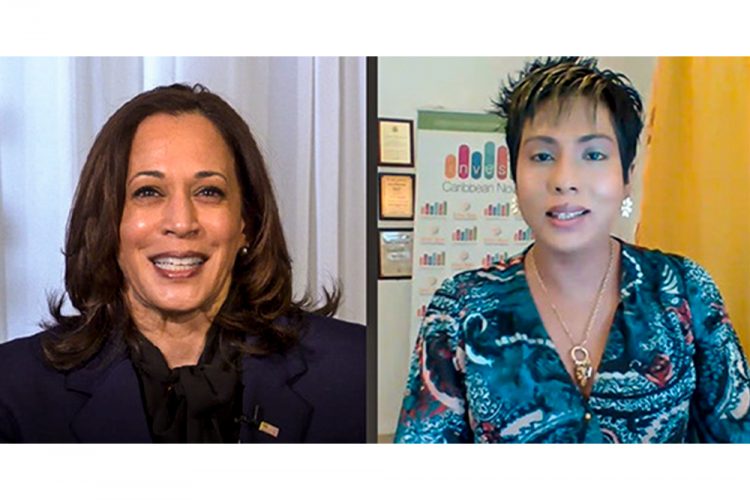 US VP-ELECT Kamala Harris on Sunday night delivered a special message to thousands of Caribbean Americans gathered virtually globally, at a star-studded virtual global Caribbean inauguration celebration in her honour, conceptualized and executed by Caribbean American entrepreneur and advocate, Felicia J Persaud, and presented by Invest Caribbean and the Caribbean American Action Network, (CAAN).
"Thank you for the efforts that so many of you have made throughout the course of the campaign to get us to this moment. … You did the work. You helped lay the groundwork for this historic occasion," VP-elect Harris said. "Now, because of you and so many others, our country is on a path to heal and rebuild."
She also recognized the contributions of Caribbean Americans to the United States, which she said are woven "throughout the fabric of our country."
"Those contributions are reflected in the lives of so many Americans with Caribbean roots, from Eric Holder and Colin Powell to Shirley Chisholm," said the VP-elect, the daughter of Jamaican and Indian immigrants. "And I'm proud to be with you, as a vice-president elect with roots in the Caribbean."
VP-elect Harris also added that "President-elect Joe Biden and I look forward to working with you every step of the way to usher in a brighter future for Caribbean Americans, and all Americans."
In opening remarks, Persaud delivered a fiery challenge to the VP-elect and the incoming administration, while like Harris, also recognizing the fact that Caribbean immigrant voters helped deliver the historic win for the Biden-Harris ticket.
"We're here tonight to hope that the election of Kamala Harris as the US' first Black Caribbean American vice-president makes it possible for the Caribbean region to take its rightful place as a strong partner with these United States," said Persaud. "We are here to resolve tonight that Caribbean immigrants in these United States will no longer be taken for granted.; will no longer be ignored and left behind; will no longer have our votes taken and then dismissed like we are nothing."
And she issued a special challenge to the VP-elect, stating: "Our challenge to you dear Vice-President-Elect is that you become a fighter for the Caribbean. That you use your Caribbean ancestry and your Caribbean heritage to make a mark in history, and not simply be just another US Vice-President."
"Kamala Harris, we celebrate you, but we are also going to be watching you," said the ICN CEO and founder of CAAN.
The global Caribbean inauguration celebration, live streamed by One Caribbean Television from 7 p.m. EST on Sunday, January 17, 2021, on its Facebook page at facebook. com/onecaribbeantelevision, also featured remarks from Vice Chancellor of the University of the West Indies, Sir Hilary Beckles, who noted that "with deep Caribbean roots," VP-Elect-Harris' "values and vision" are a part of a "long Caribbean journey to democracy."
Pointing to the history of the Caribbean's long journey of embracing love of education, pursuit of professional advancement, commitment to public service, placing community above self and commitment to the principle of equal justice for all, Sir Hilary said VP-Elect Harris' "values and visions" are a part of a long Caribbean journey to democracy.
"She is a product of those values. She is an expression of these Caribbean internal and moral ethnical perspectives," said the UWI Vice-Chancellor. "Critically, she is a Caribbean mentality, on its way to demonstrating the richness and the fertility of Caribbean civilization."
"We have every right to celebrate her as an internal product of who we are – the Caribbean family," he added. "She is an expression of the Caribbean's family's journey into the future."
The event also featured signature performances from some of the Caribbean's top entertainers, including Frankie McIntosh of St Vincent and the Grenadines, who with Maxie Gouveia, Sundiata King and Rashid Thorne added some jazz to the evening with a 'Tribute to Len 'Boogsie' Sharpe.'