Posted on
More scientists arrive to assist with monitoring of La Soufiere Volcano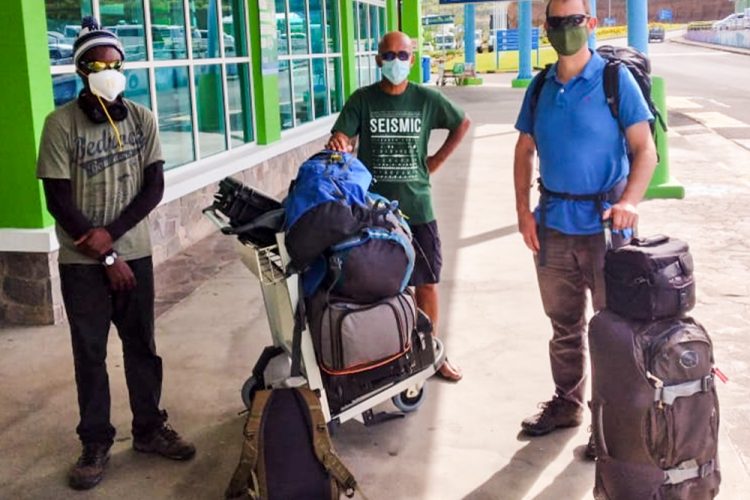 Two more scientists from the UWI Seismic Research Centre (UWI-SRC) arrived in St Vincent and the Grenadines (SVG) this week to help in the ongoing monitoring of La Soufriere.
Dr Thomas Christopher and Adam Stinton, both of whom are based at the Montserrat Volcano Observatory, arrived on Wednesday aboard the Regional Security Services (RSS) aircraft with a mission to gather data from the growing dome and crater.
According to a bulletin from NEMO dated January 13, this data will be gathered through temperature and photogrammetry and gas measurements using a MultiGAS and spectrometer.
Activity at the volcano was first noticed in November, 2020. The effusive eruption taking place – magma slowly oozing from the earth has resulted in a new dome being formed within La Soufriere's crater.
This dome, which has an ellipsoid shape is located on the south-west perimeter of the existing dome and its growth is expanding in a westerly direction.
NEMO's bulletin on Wednesday said steam from the volcano can still be observed from the Belmont Observatory and persons living in areas close to the volcano should expect strong sulphur smells for several days to weeks, depending on changes in wind direction.
The Caribbean Disaster Emergency Management Agency (CDEMA) has finalised helicopter support for the SRC team to install equipment and collect samples from the summit of the volcano.
Rotary helicopter aircraft services became available from yesterday to also provide support access to sampling of the extrusive materials, air lifting equipment to the flanks of the volcano, surveillance/reconnaissance to analyse changes in the volcano and other relevant support to the work of the scientists.
This service is being provided at a cost of £51,000, through the memorandum of understanding on the UK support for the CDEMA Response Teams programme.
The alert level at La Soufriere remains at Orange up to press time and NEMO is appealing to the public to desist from visiting the volcano until scientists advise that it is safe to do so.