Posted on
Helicopter to assist with volcano investigations being sourced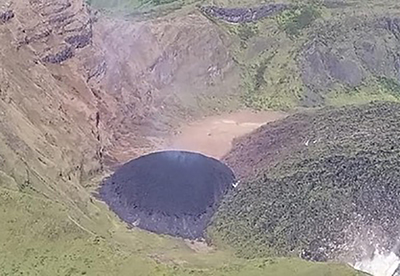 As the effusive eruption at La Soufriere continues, authorities are looking into sourcing a helicopter to assist in the ongoing volcanic investigation.
A team from the University of the West Indies Seismic Research Centre (UWI SRC) arrived in St Vincent and the Grenadines (SVG) on New Year's Eve on board a Regional Security System aircraft.
The team includes geologist, Professor Dr Richard Robertson, instrumentation engineer, Lloyd Lynch and engineering technician, Ian Juman.
Prime Minister Dr Ralph Gonsalves said on radio on Sunday that government was exploring two sources to access a helicopter to carry out specific tasks outlined by Professor Robertson.
"One of them being to actually get material from the satellite dome which is growing and to test that material to get the requisite supportive scientific elements to assist in further analysis and prognosis…," Gonsalves said on the 'Issue at Hand' programme on We FM.
The prime minister, who is the chairman of the National Emergency Council, explained that the helicopter would have to be one suited for bush fire conditions that would be able to operate safely in a dusty environment, particularly as it relates to ash.
The prime minister also detailed the specifications for the pilot needed to fly the helicopter, noting that the pilot would have to have at least 2000 hours flight experience with mountain experience, extensively as it relates to high altitude and hostile terrain.
Nine specific tasks will be undertaken using the helicopter.
One source being explored by the SVG Government is trough Martinique, an associate member of the OECS.
Gonsalves said all indications show that this may be a positive lead to access the aircraft.
Leads for accessing a helicopter with the requisite specifications were also being explored through the Caribbean Disaster Emergency Management Agency (CDEMA).
"Within the next couple of days, we should know precisely what is happening to see if we can get a helicopter to fulfil tasks requested by Professor Robertson. In any event, if we get both of them, we can sequence them appropriately," the prime minister said.