Posted on
Worried residents north of Dry River ready to evacuate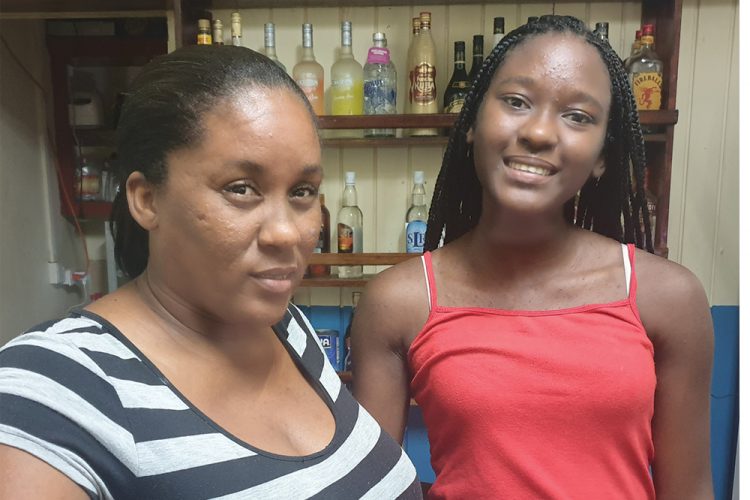 by Lyf Compton
North of the Rabacca Dry River, in villages that will be evacuated if La Soufriere blows its top, on the surface, everything seems normal.
Residents are going about life as usual, a few still unloading Christmas barrels, playing dominoes, drinking, smoking.
But the calm is only skin deep, as most people are worried that the orange volcano alert issued by the National Emergency Management Organization (NEMO) on Tuesday will turn to red at a moment's notice and send them scampering from their homes.
Orange means a highly elevated level of seismicity and that eruptions may occur with less than 24-hour notice.
La Soufriere, one of the most dangerous volcanoes in the region, is erupting, albeit effusively, and scientists from the University of the West Indies Seismic Research Centre (UWI-SRC), led by Vincentian volcanologist Dr Richard Robertson, are monitoring the situation.
The monitoring is to give the government at least 48 hours notice to evacuate approximately 20,000 persons from danger zones if the volcano shows signs of becoming explosive.
David Jordon of Overland sits quietly in a corner smoking.
"A lot of people are panicking, but me nah really ah panic ah nah. Me just being prepared, you know what I mean," Jordon told SEARCHLIGHT.
His preparation includes packing clothing and other necessities.
Jordon said that he was 12 years old during the 1979 eruption and he remembers having to evacuate with his family to a school in Stubbs.
He said that when he came back to Overland, there was a lot of ash everywhere and the smell of sulphur was strong.
"Like walking all over the place there was ash…," he said while pointing at the volcano and revealing that he has been smelling sulphur since Tuesday.
"I prepared to move any time," he said, while adding that he lives alone, but his mother and other family members also live in the community.
"I have no fear of death; live you may, dead you must…so you can't have fear for death…. You just have to be prepared from the time the word 'go'. You just be ready to go without looking back," Jordon said.
Tecia Woods said she has lived in Overland all her life and it is frightening because she has never experienced an eruption before.
Woods has noticed a change in the smells in the atmosphere as sulphur has been added to the mix.
"Of course we are scared, my daughter especially," Woods disclosed while adding that her family is five strong, but she has many other relatives in the village, "Each one look for one, that's how we do it."
"We are already packed, clothes, food…" she said while noting that they are thinking about unpacking the shelves of her shop, but they are still monitoring the situation.
"If it happens suddenly, what would we do? Remember we are in the danger zone and we have to actually look out for
Overland river, Orange Hill and Rabbaca as well…because the heat alone," Woods lamented.
She added, "we always say that one day to come. Because we always know it's there and we say the big man is there and we never know when, that's our favorite line 'you never know'."
Woods has visited the volcano many times, the last time four years ago; some five trips in two months that year. She has no plans of going back.
"We just waiting and watching," she said.
Lucin Lavia of Trench Town, Sandy Bay says she has three children and she is scared.
She said in 1979, she was seven and evacuated to a camp when the explosions began.
"I feel so sorry because I have my children. My mother and father died and all I have is my husband and children now.
I'm not so frighten, but how I have my children and they never experience it.
"They say we have to look out and they will have transport to move we. I done pack, just now I went inside and took them out, but just like my mind tell me put them back in the bag," the anxious mother said while adding that she has packed "some good clothes".
"In 1979 something from the volcano hit me on my hand and swell up my hand," Lavia recalled.
She said her son went to Larakai with friends to hunt iguana and smelled sulphur.
Lavia's son told SEARCHLIGHT, without giving his name, that they left the mountains after they smelled sulphur. He said he saw no changes in the movements of the animals.
Animals are known to sense danger and move away when earth movements become strong.
Another Sandy Bay resident Javid Baptiste has mixed emotions it seems.
"I'm not really scared you know, but I kinda frighten still," the national cricketer said.
He added that he is house-sitting for a friend and her son but he will not be going to that house tonight as he wants to stay close to his family.
On Tuesday, NEMO began making plans for the possibility of an explosive eruption that could see them having to evacuate hundreds of persons from major volcano hazard prone areas, even as staff members also have to deal with two COVID-19 cases that have no travel history.