Posted on
'Illegal party' results in damage to resident's home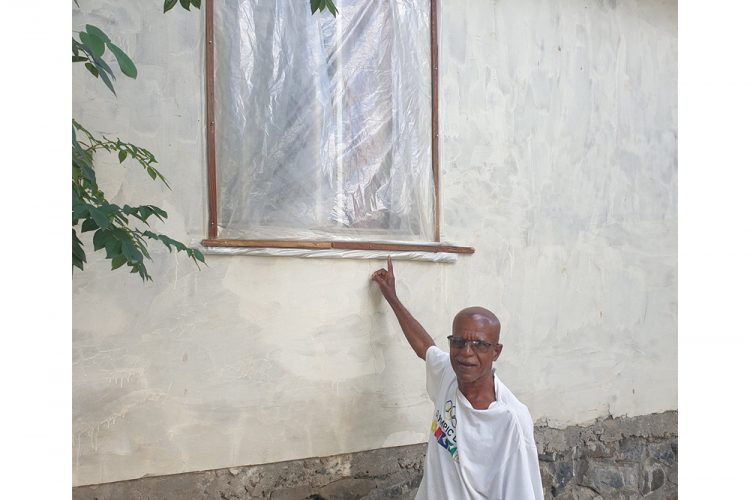 by Lyf Compton
A Layou man says that an illegal gathering on Christmas Day that breached COVID-19 protocols not only made residents of the area uneasy, but resulted in a window pane of his house being broken.
Gary Stewart told SEARCHLIGHT that when police responded to the gathering taking place at Velox Street, Cowdrey Village, Layou, the law enforcement officers were spoken to rudely and bottles were pelted at them.
On Monday, an officer stationed at the Layou Police Station confirmed that the officer who responded to the illegal gathering was disrespected by one of the organizers of the event and he had to call for backup from the Rapid Response Unit (RRU). The officer however denied that the responding police officer was pelted with missiles.
Commenting on what happened, Stewart said one of the organizers should have known better than to have an event like this, when COVID-19 is real and there are ailing persons, including a sick elderly woman, living on Velox Street.
Stewart claims that the event was held to celebrate a sports team from the area winning a competition and while persons were happy the team won, many residents thought the event was inappropriate for that area at that time.
"One of the organizers went to University so he is intelligent enough to know about the protocols involving large gatherings to prevent COVID-19…he organized it and he is someone that the guys look up to and they had this massive block-o inside here with hundreds of people…300 to 350," Stewart said.
He said that an elderly woman living on the street has serious health issues, and he has an issue with his head so the gathering was extremely problematic.
"I didn't say anything to them because prior to that, I spoke to them about the noise and they threatened to kill me," Stewart said while adding that the area has been used on several occasions for illegal gatherings that create a lot of noise.
He said that on Christmas Day, the event started at about 3 pm and he reported the gathering to the police and this may have angered persons.
Stewart said he left home and when he returned someone told him that missiles had been thrown at his house.
"When I decided to retire, I realized that the window was broken and there was a big rock on the bed and I went to the police," Stewart said.
The retired postman said this is the second time that someone has broken his window and the illegal gatherings need to stop especially in these times when COVID-19 is wreaking havoc in the region and internationally.
"It is a regular occurrence, they always coming and playing music loud and I am the only person who would tell them desist from doing it because I have a problem with my head.
"Even though I didn't have a problem with my head I have a right to enjoy the peace and quiet of my home. I am supposed to be able to read my Bible, pray and relax and watch TV without being under siege.
"Because I am under siege, and when order breaks down, disorder and chaos reign," Stewart said while adding that the organizers of these events need to quit.
Head of the Police Public Relations Department Assistant Superintendent of Police (ASP) Junior Simmons told SEARCHLIGHT on Monday that the COVID-19 protocols as they relate to these types of gatherings are still in effect.
Protocols for gatherings include the wearing of facemasks, temperature checks, hand sanitizing and the recording of names for contact tracing purposes if that becomes necessary.
None of these protocols were in place for the Christmas Day event.
ASP Simmons noted also that permission must be sought from the police to hold gatherings and it is illegal to host events without police authorization.
No one sought permission to hold the December 25 event.
When contacted on Monday, one of the alleged organizers of the event said he had nothing to do with the gathering.
Up to press time, SVG had recorded six new Covid-19 cases this week, bringing the number of active cases to 26 and the total recorded cases to
115.